Guido | 01.07.2009 09:56 | Migration | World
Well so much for all those blood curdling corporate media reports about the 'riot' in Calais. The Daily Mail retained their first prize for the most absurd prediction by saying that the protesters planned to smash through the border controls and lead the refugees through 26 miles of channel tunnel?!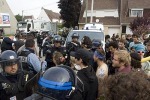 The first road block after leaving the camp.

Those sinister plain clothes CRS discuss their plans...

...like the law banning facial coverings.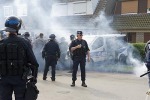 Meanwhile on the other side of the barricade...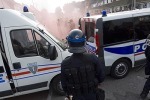 ...the protesters gas themselves to save the Police the trouble.

The clowns keep busy Police helicopter spotting.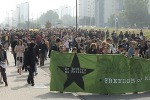 The long march to the protest...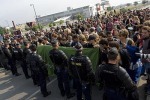 ...gets regularly held up by cops in fetish gear.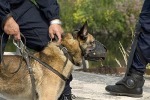 You can only imagine what they get up to when off duty?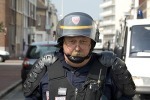 The mysterious Calais pie shortage is explained.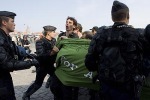 At least one Police line is breached.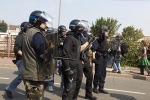 So those designer cops appear...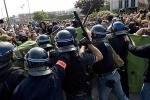 ...and initiate their public relations strategy.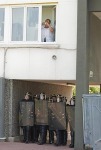 Which seems to entertain both the locals...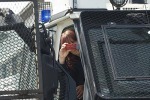 ...and the water cannon operators.
In the end despite intense Police provocation the several thousand people held a peaceful march in solidarity with the displaced on a sunny day in Calais.
Numerous road blocks ensured that those leaving the camp took nearly two hours to reach the assembly point. The 1,500 riot cops had very little to do except get slowly baked i their riot gear.
The march had a carnival atmospehere. The locals all seemed to enjoy the spectacle. A good event that was well worth attending.
Guido


e-mail: guidoreports@riseup.net