One of NoBorders | 27.06.2009 22:20 | Migration
About 50 people gathered today outside Communications House, one of London's two immigration reporting centres and so-called 'short-term holding facilities', to protest against immigration detention and deportation and show solidarity with the Yarl's Wood hunger strikers. Many leaflets were given out and chants of 'No borders, no nations, stop deportations' filled the air of Old Street. One of the hunger strikers addressed the crowd on the phone and speakers, including an ex-Yarl's Wood detainee, delivered moving speeches about the inhumane conditions inside detention centres and migrants' struggles against the government's racist immigration policies.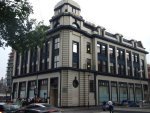 Communications House and the demo outside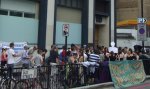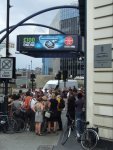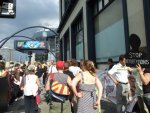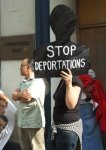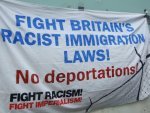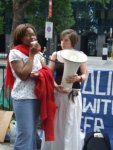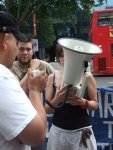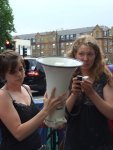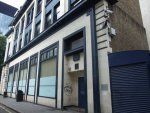 the anonymous-looking building where people are snatched while signing on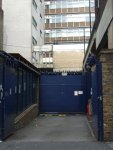 the gate to the 'secure unit' attached to the reporting centre
A planned demo at Yarl's Wood this morning was cancelled at the last minutes as detainees were yesterday given notice that visits would be cancelled today due to "operational requirements" and "unforeseen circumstances", so organisers did not want to cause more suffering for detainees. Meanwhile, someone who had forwarded the call-out to a mailing list was contacted by the police, who were apparently trying to find out who was organising the protest.
One of NoBorders