Liberationists | 22.06.2009 18:58 | SHAC | Animal Liberation | Ecology | Social Struggles | World
16th-22nd June
ANIMAL TRANSPORT TRUCK DESTROYED (Italy)
CANARY FREED FROM CAGE (Mexico)
UNGAR FURS LOOKING WORSE THAN USUAL (USA)
GLUED LOCKS AND BROKEN WINDOWS IN ROME (Italy)
"BREAK WITH HLS" PAINTED AT NOVARTIS (Mexico)
MEAT MARKETS, TELMEX PHONES VANDALIZED (Mexico)
SABOTAGE IN MEMORY OF MAURI MORALES (Mexico)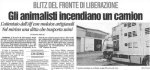 ANIMAL TRANSPORT TRUCK DESTROYED (Italy)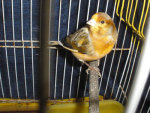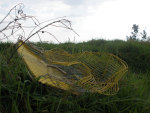 CANARY FREED FROM CAGE (Mexico)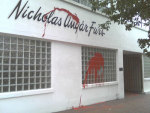 ANIMAL TRANSPORT TRUCK DESTROYED (Italy)
Viadana (Mantova), Italy. Local newspapers report an arson completely destroyed a truck used to transport pigs to slaughter. Unexploded incendiary devices were found in two other trucks. "ALF" was painted in red on a nearby building.
The owner of the Maramotti Giuseppe trucking company said that if all the devices had worked the company would probably have never recovered from the loss. Damages are estimated to be at least 60,000 Euros.
>>
CANARY FREED FROM CAGE (Mexico)
anonymous communique (translation):
"With the desire to add ourselves to the call to action to carry out wild sabotage, we of the Frente de Liberación Animal-Comando Verde Negro (FLA-CVN) have not sabotaged any institution or company, however on the morning of June 15 we rescued a canary from a cage where he was kept captive in Mexico State; we have taken a prisoner from cells which had condemned him to live his entire life in captivity. When we had happened to be passing down the street and we saw a cage with this individual inside, we jumped the fence and we carried away the canary in his cage. This animal had begun to show signs of stereotypical behavior such as only moving from side to side inside the cage, showing how the anthropocentric feelings of humans can cause the total loss of wild instincts and the instinct to survive, and those imprisoned animals can die at any moment if they are not liberated.
The canary had been picking at the bars of the cage to get out. We opened the cage door and he could finally fly happily through the air, accompanied by two dragonflies that he joined in the sky. The canary now lives in a tree along with other birds, and after a long time living monotonously he can now sing cheerfully. After he was liberated we destroyed the cage with our hatred of prisons.
Animal liberation now! Even if it's by illegal means.
All returns to freedom are a victory!
FLA-CVN"
>>
UNGAR FURS LOOKING WORSE THAN USUAL (USA)
reported on portland indymedia:

http://portland.indymedia.org
June 14/15: Red paint was splattered on the entrance, windows and the sign in front of Nicholas Ungar Furs.
Nicholas Ungar Furs (1137 SW Yamhill) is the last remaining fur shop in downtown Portland, Oregon.
>>
GLUED LOCKS AND BROKEN WINDOWS IN ROME (Italy)
received anonymously:
"ITALY ROME To ruin businesses of torturers: smashed tyres and/or windows of two fishmongers vans and one shop selling animal's van. Glued locks of a butcher, a furrier and a fishing shop. Day after we enjoyed a show with sweaty owners under the hot sun trying to open their shops
>>
"BREAK WITH HLS" PAINTED AT NOVARTIS (Mexico)
anonymous report (translation):
"In accordance with the call to action launched by the Frente Subversivo por la Liberación Global [Subversive Front for Global Liberation] against companies and institutions complicit in world domination, we, as part of the Frente de Liberación Animal, attacked Novartis, a company allied with the shame of animal experimentation, on June 15, sealing one of their doors with plenty of glue and leaving another painted with 'Break with HLS' and the symbol of the FLA.
Let the sabotage continue and let the anarcho-insurrectionalist call to action continue forward!
ALF México"
>>
MEAT MARKETS, TELMEX PHONES VANDALIZED (Mexico)
reported anonymously (translation):
"On Saturday, June 13 of this year, the FSLG in collaboration with compañeros from a collective in the Tlalpan borough destroyed 8 Telmex phones, glued 2 meat markets, and broke windows and destroyed a chapel at a church; all this was done in solidarity with imprisoned compañeros who have been tortured and had their rights to privacy, etc. violated, with those fallen in this painful journey to freedom, for our animal brothers and sisters who have been mutilated, locked up, offended, killed... in the name of science, for our supposed welfare, for 'progress' and to feed the mouths of those who every day get richer at the expense of an entire people.
We will continue to cause chaos in their 'tranquil' cities and dirty businesses supported by the darkness and silence of the night.
LONG LIVE ANARCHY FOR A FREE AND WILD FUTURE.
Frente Subversivo de Liberación Global [Subversive Front for Global Liberation]"
>>
SABOTAGE IN MEMORY OF MAURI MORALES (Mexico)
anonymous report (translation):
"On Thursday, May 27 between 10 and 11 at night, 5 ATMs were destroyed, of which four were BBVA Bancomer, in Iztapalapa and Iztacalco respectively, and one was HSBC in the municipality of Chimalhuacan; 4 Telmex phones in Nezahualcoyotl city and a 'School Zone' road sign that was in an area where no school existed; all this in memory of our Chilean compañero Mauri Morales* who died in the search for liberation for all political prisoners.
WE WILL CONTINUE TAKING ACTION UNTIL WE ACHIEVE OUR PURPOSE
FREEDOM, ANARCHY
Frente Subversivo de Liberación Global"
*Chilean anarchist Mauricio Morales was killed May 22 in Santiago when a bomb he was carrying exploded prematurely.
>>
Related articles
Global

http://www.indymedia.org.uk/en/2009/06/432533.html
(17th)

http://www.indymedia.org.uk/en/2009/06/431849.html
(6th)

http://www.indymedia.org.uk/en/2009/06/431654.html
(3rd)
Netherlands: Animal liberationists imprisoned, new address

http://www.indymedia.org.uk/en/2009/06/432355.html
(15th)
More information

http://www.animalliberationfront.com
Liberationists


Homepage: http://DirectAction.info