Tyneside Community Action for Refugees (TCAR) | 17.06.2009 22:16 | Anti-racism | Migration | Social Struggles | Sheffield
Activists from Tyneside Community Action for Refugees (TCAR) gathered outside Government Offices North East this morning (Wednesday 17th June) to protest against racism and all immigration prisons.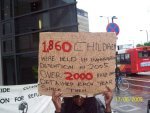 Children are detained without decent education, healthcare or support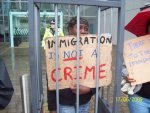 We used street-theatre to highlight the oppression migrants face in this country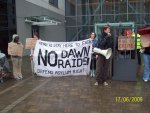 We held banners, spoke on our megaphone and talk to passers by
At present there are a total of 3,105 bed spaces in Immigration Removal Centres and the Labour Government plans to build more detention centres to bring the capacity to 4,405 bed spaces. Every year over 2000 children are detained for long periods of time in these immigration prisons without access to adequate education, healthcare or support.
We used street-theatre and chants of "Immigration is no crime – End detention! Deportation is the crime – Lock up Labour" to highlight the oppression migrants face in this country.
Undeterred by the Government building security (who denied us access to the public building when we went to hand in petitions), the police (who pushed one female protester unnecessarily) or the torrential rain, we continued to hold our banners, speak on our megaphone and talk to passers by about what is going on behind the closed doors of the Labour government's immigration prisons.
Some fascists, who were working on a nearby construction site, tried to intimidate us by shouting racist abuse and hanging a makeshift banner which read "BNP". The racist police and security stood by and did nothing but we drowned the fascists out with chants of "Justice for Immigrants! Freedom for Refugees!" because, as our banner says, together we are stronger!
The government continues to snatch members of our community, including Laureine Tchuapo and her children who were taken to Yarls Wood detention centre after a dawn raid last Friday, but they will not snatch them in silence! TCAR will organise to stop deportations and protest every time a TCAR member is snatched.
At 4pm today, 40 detainees in Yarls Wood, who had been on hunger strike for the last two days, were violently attacked by security who removed 4 men (one of who is now bleeding) and 2 women (who were naked at the time) and trampled a baby during their attack. Laureine has sent us this message from inside:
'I have never ever seen such violence. They were beating the men like they were animals. They filmed the women when she was naked because her clothes were ripped off. They say if we dare to go back into the corridor they will spray us all over [with pepper spray]. We need your help from outside. We don't have any rights in here. We need your support from outside'
We must show our solidarity with refugees fighting back for their rights and with oppressed people all around the world. Join TCAR to demand an end to racism and deportation and the immediate closure of all immigration prisons!
Northern March Against Immigration Prisons – Saturday 20th June, assemble @ 11am outside Centre for Life, Newcastle then march to Monument for a Speak-Out Against Racism! (rally and street-meeting).
Visit: www.tynesidecarn.co.uk for more information about the march and the group. E-Mail:

tynesidecarn@yahoo.co.uk
for details of contingents planning to travel from Sunderland and Durham.
Shut Britain's Racist Immigration Prisons!
Tyneside Community Action for Refugees (TCAR).
Tyneside Community Action for Refugees (TCAR)


e-mail: tynesidecarn@yahoo.co.uk


Homepage: http://www.tynesidecarn.co.uk/