One of NoBorders | 14.05.2009 00:37 | Migration
Early in the morning of 12th May 2009, a dozen anti-deportation campaigners from the Stop Deportation network and the International Federation of Iraqi Refugees blockaded the entrance to Colnbrook and Harmondsworth detention centres near Heathrow, to try and prevent a scheduled mass deportation of 45 Iraqi Kurdish refugees held at Colnbrook. Six activists locked themselves together in pairs, using glass and plastic arm tubes attached to heavy concrete barrels. The blockade lasted for over four hours, after which three coaches carrying the deportees left for an undisclosed airport. All six were arrested (two quite violently) for obstruction of the highway.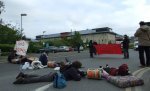 soon after the start of the blockade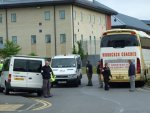 Serco and G4S security guards look surprised and confused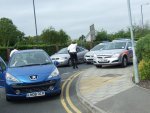 detention staff arrive to be told they can have the day off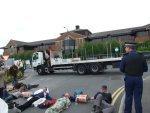 a truck is brought to block the road further!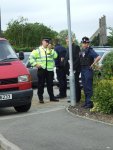 Colnbrook's manager talks to the police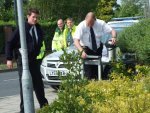 after which they get tea and coffee (a bribe?)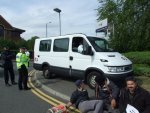 police let cars through using the grass and pavement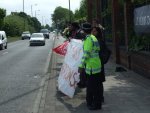 Section 14 of POA is applied and protesters are moved to other side of the road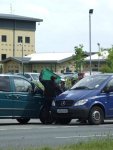 and block the view with their vans to prevent us from seeing and filming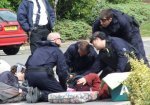 how do we cut this bloody thing?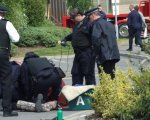 they had to use different equipment due to the mixed nature of the lock-ons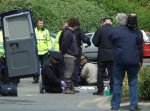 the first lock is cut after about half an hour and the pair are arrested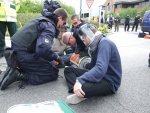 the second one, better made, took longer (about 50m)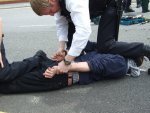 the third arrest was quite violent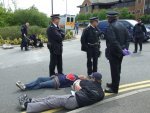 enough space was cleared for the coaches to get through

and so they did immediately, around 12:45pm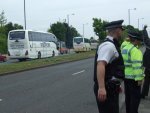 two Woodcock coaches and one WH Tours, protesters shout in anger and sadness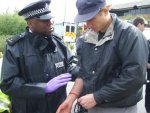 the last pair decide to release themselves after the coaches had left
One of NoBorders

14.05.2009 02:11
legal observer

---
14.05.2009 02:18
legal observer

---