Guido | 05.04.2009 19:34 | Globalisation | Repression | Terror War
After their poignant visit to the border the Black Block then went a couple of street into town and set fire to a bank. Unfortunately for the Ibis hotel chain one of their outlets was situated above the bank in question.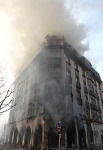 The Ibis Hotel loses its star rating.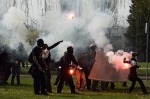 The Black Block artillary swing into action.
This time the cops responded by sending in several riot units and a particularly sinister bunch of plain clothes Police in riot gear who shot plastic bullets all over the place.
Again there was a lot of gas deployed. The anarchists replied by shooting rockets and naval flares at the cops. They then went to join the demo which was leaving but found their route to be blocked. So they went across a railway to reach it.
Guido


e-mail: guidoreports@riseup.net