Liberationists | 26.03.2009 22:01 | Animal Liberation | Ecology | Social Struggles | World
21st-26th March
BABOON RESCUED FROM CIRCUS (Spain)
HUNDREDS OF MINK RUN FREE (Denmark)
WINDOWS SMASHED, MESSAGE PAINTED AT FOIE-GRAS RESTAURANT (USA)
ANOTHER BUSY MONTH IN SWEDEN (Sweden)
EARTH-DESTROYING MACHINE BURNED (Mexico)
TURKEY SAVED IN OPEN RESCUE (Czech Republic)
NIGHT OF SABOTAGE (Chile)
CANDY TRASHING SPREE (Netherlands)
CHICKENS RESCUED FROM SLAUGHTERHOUSE (Spain)
PHOTOS, COMMUNIQUE RELEASED FROM PHEASANT FARM RAID (Italy)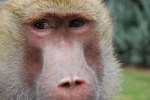 BABOON RESCUED FROM CIRCUS (Spain)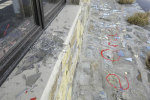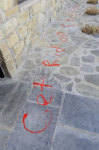 WINDOWS SMASHED, MESSAGE PAINTED AT FOIE-GRAS RESTAURANT (USA)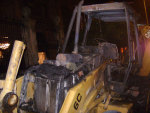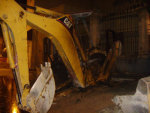 EARTH-DESTROYING MACHINE BURNED (Mexico)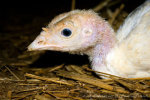 TURKEY SAVED IN OPEN RESCUE (Czech Republic)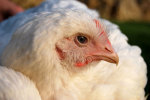 CHICKENS RESCUED FROM SLAUGHTERHOUSE (Spain)
BABOON RESCUED FROM CIRCUS (Spain)
On New Year's Eve, five minutes before the bell, when all the workers from Circo Roma Dola were in a tent celebrating the start of 2009, three individuals entered the trailer where a baboon enslaved to the circus was kept in a cage. The baboon was led out of her cell, leaving behind what had been her prison for years.
Click here for photos from her time in the circus and after her rescue:

http://www.igualdadanimal.org/noticias/simpatizantes-de-igualdad-animal-rescatan-una-babuina-de-un-circo
English translation of communique to follow.
>>
HUNDREDS OF MINK RUN FREE (Denmark)
According to media reports, approximately 1,400 mink were released from a fur farm in Alslev during the night of March 24. Some of the mink have been spotted several miles away from the farm, and several hundred mink have so far escaped recapture.
>>
WINDOWS SMASHED, MESSAGE PAINTED AT FOIE-GRAS RESTAURANT (USA)
anonymous report:
"Tisk, tisk, Iron Bridge. You put foie gras back on your menu after we warned you not to. Word from the wise: when you receive threats from underground animal liberationists, listen, because we follow through. Now listen, get rid of foie gras for good, or we will get rid of you." (photos from the Baltimore Sun)
>>
ANOTHER BUSY MONTH IN SWEDEN (Sweden)
recent actions reported by activists in Sweden:
"Winter 2008 - Kumla; A pig breeder has been targed several times during the winter. They breed 10 000 piglets every year and have been hit with spray paint and smashed windows. - DBF
January - Malmo; Mattssons Fur shop was hit twice during january. The first time ten paint bombs were thrown at the store and the second time the store front was trashed with spray paint. The animals have waited long enough, smash the fur industry! - DBF
1 feb - Gothenburg; The penguin and seal ponds in Slottsskogen (public park in the center of town) were spray painted and so was the park workers cars. - DBF Gothenburg
1 feb - Orebro; Windows smashed at Lowen Skinn.
Jan/feb - Orebro; Citykebab was spray painted.
Jan/feb - Orebro; Lukullus big ads for meat and fish were covered with graffiti.
7 feb - Orebro; The town's last meat shop 'Kotthandlarn' was sloganized. - DBF
7 feb - Orebro; Four windows were smashed at Lowers Skinn. Thru the holes activists sprayed paint. - DBF
8 feb - Gotheburg; A brick was thrown thru the window at the fur store Kajs. On another fur store (Christins) activists wrote slogans on the store front. - DBF Gothenburg
15 feb - Gothenburg; A brick was thrown thru the window at Christins. Slogans was also painted. - DBF Gothenburg
17 feb - Orebro; Two young activists were arrested on suspicion of trying to start a fire at the local fur store.
feb - Orebro; The local cheese store's commercial bike was trashed.
17 mar - Genarp; Four hunting towers toppled and destroyed. Defend the forest, protect the animals! - Protectors of the Wild"
>>
EARTH-DESTROYING MACHINE BURNED (Mexico)
"Today the Guadalajara, Jalisco sky was illuminated by the abolitionist fire of the Frente de Liberación de la Tierra (FLT/ELF) when we decided to break the social order imposed by the techno-industrial civilization; on the night of March 22 a machine that destroys the earth was reduced to ashes and a big stone broke the window of a bank.
Maybe we have not collapsed the system of domination with these actions, but it begins with actions like these.
From practice comes success.
Guadalajara México ELF"
>>
TURKEY SAVED IN OPEN RESCUE (Czech Republic)
reported on

http://michalkolesar.net;
click here for more photos from the rescue:

http://michalkolesar.net/cpg/thumbnails.php?album=36&page=1
"This was unplanned rescue. Together with friends from Austria we entered a turkey farm in South Moravia. We walked through the building, I took pictures and finally we agreed that we take at least one turkey and move her to Austria.
She had beautiful eyes and stank awfully."
>>
NIGHT OF SABOTAGE (Chile)
anonymous communique (translation):
During the night of Saturday 21, we climbed on our bikes and headed out
to sabotage the work of exploiters. In our bags we carried pieces of (previously
cut) metal to put in locks and padlocks, superglue and 2 spray paint cans.
A bank branch was our first target, with much superglue and metal we sealed the slot where the card is inserted to open the door to the ATM room. On the door of the bank we painted 'closed' and '(A)'.
Then we went to a fast food restaurant where we sealed 2 padlocks, and at
the entrance painted 'meat = death.'
The third goal was a large butcher shop located on a very busy corner,
where we sealed the 6 padlocks and one of us tried to pass the gate to leave a
message on the big white wall, but had to flee when a police patrol got close.
After exiting the site without causing suspicion we painted all the walls
that we found with messages such as 'political prisoners to the street',
'March 29 in protest!', 'Light the fuse (A)', and we also painted over a mural
of the communist party where we crossed out their disgusting hammer and sickle; we also wrote 'politicians to the stake'.
Finally we went to another butcher shop where we sealed the 4 padlocks on the 2 doors and we painted 'murderers'.
Sabotage against capital and the murderers will continue, we will not settle
for just talk, direct action is a method of attack against those who have commodified our lives and those of our animal brethren.
We believe in the 'here and now,' we will not wait for an idealized moment to
act, we will attack with everything we have in our hands.
From behind the anonymity of the actions we are sending a big rebel hug to those who dare to break with this reality, using publications, expropriating,
throwing stones, setting barricades on fire, smashing shop windows, burning and making bombs.
And for those who seek pacificism, victimization and movement of the
'masses' and have tried all forms of trampling over the subversive actions,
they know they are our enemies and how they will be treated!
destroy authority, its supporters and false critics!
for the daily insurgency!
Antiauthoritarians for Liberation."
>>
CANDY TRASHING SPREE (Netherlands)
anonynmous report:
"On the 21st of March the A.R.O.M.A (Animal Rights One Man Army) went out to
some big supermarkets in the Netherlands. (Different ones than last time)
This time the A.R.O.M.A went on a Candy Trashing Spree.
About sixty Mars/Snickers/Twix bars had their packaging cut open.
Also +- 100 bags of HARIBO candy were ruined.
Haribo is the major sponsor for the Herman Renz Circus, which keeps
wild animals for the amusement of idiots. They are also the biggest candy
seller in the Netherlands.
If animals have to die for or because of CANDY! this world has gone too far."
>>
CHICKENS RESCUED FROM SLAUGHTERHOUSE (Spain)
reported by Igualdad Animal;
click here for additional images:

http://www.flickr.com/photos/igualdadanimal/sets/72157615178763179/
"Activists from Igualdad Animal (Animal Equality) have rescued three chickens from a slaughterhouse in Madrid. We went into the slaughterhouse to install a hidden camera as part of a Spanish slaughterhouses investigation and then realized that there were three birds still alive inside, so we took them with us.
Sadly, two of the chickens died the day after the rescue. One of them was euthanized after we realize during his surgical operation how bad he was (he had two broken bones, a disjointed leg, several haematoma and some other problems related with his rapid growth and huge weight for his age) and another one died the following day (probably due to a lung infection he had). Another one, Allen [named after activist Gari Allen], has been subjected to surgery and he is recovering fine, taking sunbaths, eating grass and resting."
Gari Allen:

http://www.jillphipps.org.uk/lost.htm#Gari
>>
PHOTOS, COMMUNIQUE RELEASED FROM PHEASANT FARM RAID (Italy)
On March 6 an aviary was cut open at a farm in Pesaro and 6,000 pheasants were released. The farm raises birds for hunting. The message, "tonight you have discovered freedom" was found on a wall.
Click here for more photos from the action, and to read the communique (Italian):

http://www.finoallafine.info/mynews_1.6.4/mynews.inc.php?hash=593e43120c44cf670989acde2394e182&mnid=155&page=
>>
Related articles
Global

http://www.indymedia.org.uk/en/2009/03/424644.html
(20th)

http://www.indymedia.org.uk/en/2009/03/424329.html
(16th)

http://www.indymedia.org.uk/en/2009/03/424242.html
(14th)

http://www.indymedia.org.uk/en/2009/03/423917.html
(11th)

http://www.indymedia.org.uk/en/2009/03/423458.html
(4th)
UK: 18th

http://www.indymedia.org.uk/en/2009/03/424438.html
(New Prisoner: Nicole Vosper)

http://www.indymedia.org.uk/en/2009/03/424437.html
(New Prisoner: Bryan Griffiths)
Grand Jury Resister: Jordan Halliday (USA)

http://www.supportjordan.com

http://www.aeta4.org
(17th)
More info

http://www.animalliberationfront.com

http://en.wikipedia.org/wiki/Earth_Liberation_Front
Liberationists


Homepage: http://DirectAction.info