Isabel Nicholson (repost) | 23.03.2009 20:28 | Anti-militarism | Palestine | World
Tristan Anderson, an American activist with the International Solidarity Movement, was shot in the forehead by the Israeli border police during a non-violent demonstration on March 13th in the West Bank Palestinian village of Ni'ilin. Tristan's parents, Nancy and Michael Anderson, held a press conference today (March 23) at the Alternative Information Center (AIC) in Jerusalem to demand justice for their son.
"We are scared and really just in shock," said Mrs. Anderson with tears in her eyes. "To shoot peaceful demonstrators is horrific to us. We ask that the Israeli government publically take full responsibility for shooting our son." To date, the Anderson family has not been contacted by any representative of the Israeli government or military, a fact that attorney Michael Sfard, who also spoke at today's press conference, described at "shameful."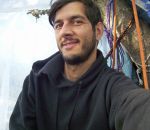 American activist Tristan Anderson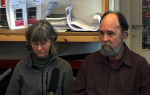 Tristan's parents, Nancy and Michael Anderson, at the press conference.
Opening the press conference was Jonathan Pollack, a well-known Israeli activist and long-time friend of Tristan. Pollack updated journalists that Tristan's condition worsened this past weekend, and following emergency surgery, he is in a medically induced coma. Immediately following the shooting, Tristan underwent two brain surgeries in which part of his right frontal lobe and shattered bone fragments were removed. "We have been hanging between hope and despair, noted Pollack. "Tristan is fighting for his life, just as he has been fighting for justice his whole life."
The Israeli border police shot Tristan using a new, high-velocity tear gas canister that can shoot over 400 meters. "Tristan was shot at 60 meters, so you can imagine what that did to him," explained Pollack, quickly adding that "actually, we don't have to imagine, we know." Tristan's father, Michael said in disbelief that "We are just appalled that he was shot in the head. It [the tear gas canister] is supposed to be shot in an arc, but they shot it at him."
On behalf of the Anderson family, Attorney Sfard filed a formal complaint yesterday with the West Bank Israeli border police, demanding the immediate launch of a rigorous and independent investigation into the shooting of Tristan. "Israel is a culture of impunity," stated Sfard, "We have to make sure this investigation is not a whitewash, so that the investigation takes place as an investigation should."
According to Sfard, 90-92 percent of all investigations launched within the Israeli military system since 2000 have yielded no results. Since 2000, there have been only 110-120 court cases launched against Israeli soldiers for injuries and deaths, and only four of these have resulted in indictments. This is despite the fact that thousands of Palestinians have been killed and injured by the Israeli military during this time, and these victims and their families are still without closure or justice. Only one of these indictments was for manslaughter, and that was the case of Tom Hurndall, the British activist who was shot in the head by an Israeli soldier in 2003.
According to the Andersons, the American Embassy in Tel Aviv has been helpful in day-to-day issues, but the issue of pressing Israel for justice has yet to take place "We want to raise the issue with them [the US authorities], but are focused on our son right now," said the Andersons.
For additional information and to watch the video filmed following the attack on Tristan go to

http://palsolidarity.org/2009/03/5324
Isabel Nicholson (repost)


Homepage: http://www.alternativenews.org/content/view/1649/381/