one of noborders | 18.03.2009 19:52 | South Coast
Early in the morning of 17th March, about 20 anti-deportation campaigners from London and Brighton blockaded Tinsley House detention centre at Gatwick airport, where some Iraqi refugees due for deportation were being held. Using D-locks and superglue, the aim of the protest was to try and prevent the deportees being taken from the detention centre to Stanstead airport, where a special charter flight to Iraqi Kurdistan was scheduled that afternoon. Unfortunately the blockade was removed around 1pm, just in time for the WH Tours coach to get to the airport and Tinsley deportees be put on the flight, along with some 50 others brought from Campsfield and Dover detention centres. Nine protesters were violently arrested under Section 69 of the Criminal Justice and Public Order Act 1994 (failure to leave land after a warning) and taken to Crawley police station. For more details, see the protesters' press releases:

http://www.indymedia.org.uk/en/2009/03/424368.html

http://www.indymedia.org.uk/en/2009/03/424406.html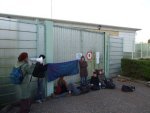 the start of the blockade just after 7am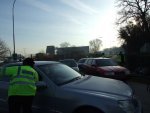 detention staff and managers arrive to be told they can have the day off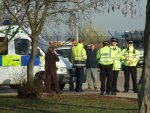 confused cops and G4S managers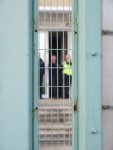 inside, security guards seem confused too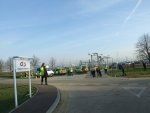 more police and the first 'intelligence gatherer' arrive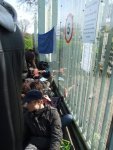 the blockade and the blocked gate

WH Tours coach stuck inside with deportees on board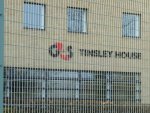 inside, detainees could reportedly hear the solidarity chants and slogans outsid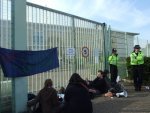 hours pass and police don't do much, save filming and intimidating people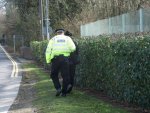 one protesters is taken away for having a piss; others had to do it in bottles!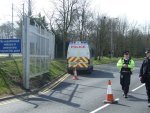 down the road, a police 'check point' prevents journalists from reaching protest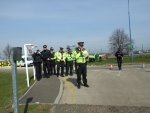 around 1pm, police warn protesters to leave or be arrested for trespass

some choose to leave and are escorted out of the airport area
one of noborders

18.03.2009 20:20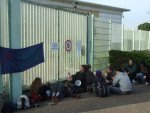 4 people D-locked to each other, with another 2 D-locked to the leg of one of th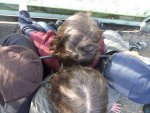 four heads, three D-locks and a blocked gate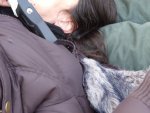 one neck, two legs and a D-lock
That's how the blockade was done - quite quick and simple!
one of noborders

---
18.03.2009 20:30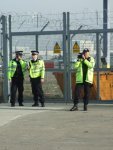 gather some 'intelligence' first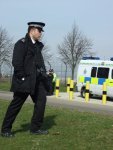 this one was pretty intelligent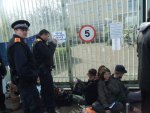 now we should get some close-ups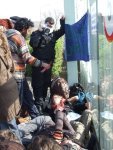 and figure out how they've done this bloody thing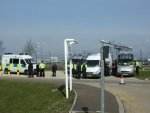 then call shitloads of cops to undo it
And that's how the policing was done - quite slow and complicated.
one of noborders

---