Food not Fuel | 17.03.2009 17:11 | Climate Chaos | Ecology | Technology
Food not Fuel (London) and Biofuelwatch held a banner protest against the presence of agrofuel company Blue NG at the "Entrepreneurs with Conscience" conference on Monday, 16th March. Blue NG are planning to build the UK's first vegetable oil power plants.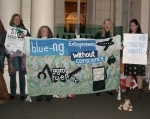 Entrepreneurs without conscience - a better name for the event!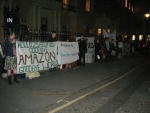 Blue NG are planning to build the UK's first vegetable oil power plants, despite overwhelming evidence from scientists, institutions and civil society organisations that agrofuels are accelerating deforestation and thus global warming, as well as pushing up food prices, particularly in poorer countries.
Blue NG has won support by promoting geo-pressure, which acted as a cover for agrofuels and the lucrative agrofuel subsidies which make the project so profitable. Geo-pressure was never even part of the planning application for the first biofuel plant at Beckton!
Blue NG, promote rapeseed oil as a sustainable fuel even though the UN FAO has conclusively linked its use in transport fuels to increased imports of palm oil in the EU. Blue NG have also refused a request from Biofuelwatch to confirm they would not burn palm oil. To date Blue NG has offered no binding commitments on sourcing or sustainability…only frequently varying claims!
Each power plant burns 56,000 litres of vegetable oil a day; if the 43 intended plants are of similar size this would amount to nearly half of the UK's entire rapeseed oil crop!
Food not Fuel