akhbar | 03.02.2009 02:24 | Anti-racism | Terror War | World
On Saturday 31st January, 100,000 people marched past the Houses of Parliament in protest at Sri Lanka's war against it's own Tamil minority. A breakaway group of around 80 left the prescribed route and sat down on Westminster bridge, the police were able to quickly drag them back onto the pavement. But when a far larger group pushed through police lines to join them, the police were overwhelmed. Having only allowed for a march of 5,000, they were unable to move the protesters on until sufficient backup units arrived hours later.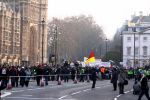 The march arrives at Parliament Square, 3pm

Street theatre is monitored for impartiality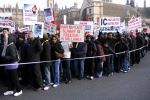 War is peace, slavery is freedom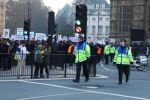 Marchers still streaming past, 4pm

Meanwhile on Westminster Bridge, a breakaway group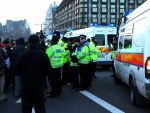 The police have everything under control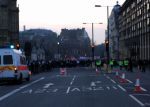 But what's that in the distance?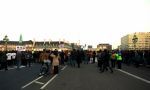 Hundreds more arrive and retake the bridge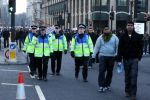 Followed by the not-so-Forward Intelligence Team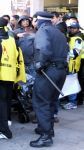 Tensions rise as police try to keep marchers to the offical route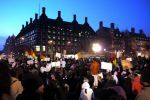 As darkness falls, the crowd hold the bridge, 5pm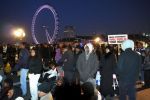 In spite of the cold they stay put, 6pm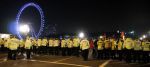 All the police can do is stand and watch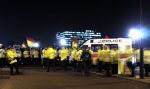 Eventually reinforcements arrive
For more information on the Tamil struggle see:

http://www.tamilsforum.com/

http://www.tamilidpcrisis.org/

http://www.tamilwritersguild.com/
akhbar