Guido | 31.01.2009 01:15 | Palestine | Terror War
On Thursday rumours started to circulate that Mr Geva Rapp, a very senior member of those peace loving Israeli Defence Forces (why do they have "defence" in their title when all they seem to do is attack?) was to address some sympathetic students in a very plush 'student' venue opposite Euston station.
You have to wonder exactly what what their plan was? There are literally dozens of venues all around London that are owned by sympathisers of ethnic cleansing in Palestine. So why (oh why??) did they they pick one that was about 100 yards from a venue where the swappies were having a Palestine rally and SOAS was just a few hundred yards away?!?
Whatever their 'plan' they certainly didn't discuss it with the local plods in advance....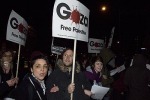 People opposing mass murder begin to assemble on Euston road.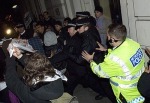 Relations become a bit strained at the door of the venue.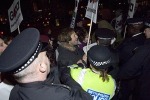 An attempt is made to remove the demo by force.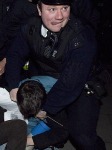 Now here is a man getting job satisfaction.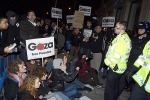 However the protesters have other ideas...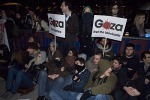 ...and ain't going anywhere soon...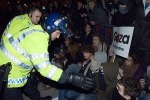 ..no matter how politely the cops ask.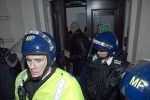 The 'other' security are ordered inside.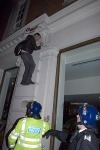 Meanwhile the human (palestinian sympathising) spider arrives...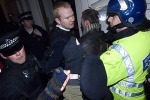 ...prior to getting lifted on suspicion of humiliating the MET.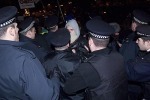 The cops then charge the demo...
There were nearly 50 protesters present even before the demo was officially due to start. As their numbers swelled the 5 Police on the door began to make panicky calls for backup. Meanwhile the decidedly sinister 'security' for the event began to get increasingly twitchy. A brief but determined attempt attempt at the door by a small group of concerned individuals was met by extreme panic from the cops and extreme violence by the earpiece wearing 'students' on the door.
At this point the Police attempted to announce a section 60 by megaphone (they were shouted down) and then tried (and miserably failed) to remove everyone by force. The assembled who now numbered over 100 linked arms and refused to be budged. The Police then ordered the creepy venue 'stewards' inside the front door and told them to turn the lights off.
And so began a stand off. More cops arrived and generally looked flustered and barked orders at each other. Though none of them seemed to be sure of what their mission was or who was in charge? They then blocked off Euston road (which wasn't blocked before they arrived) which must have caused huge delight to all those commuters trying to join the A40 by car. They then announced that the offending meeting inside the building had been cancelled and the suspected war criminal would not be speaking.
Out of interest, can anyone confirm or deny that?
The proceedings were briefly livened up by a gravity defying individual who scaled the side of the building and placed a placard on the ledge by the first floor windows. He was promptly nicked upon his return to earth and then the cops (who were now very many) charged into the crowd to force them down the road into a kettle. Having detained everyone, they then changed their minds and let them all go.
Those who had showed up at such short notice to this action were looking decidedly pleased with themselves as they left. I'm not sure that the Police will remember this event with such affection...
Guido


e-mail: guidoreports@riseup.net

31.01.2009 11:05
In case anyone's concerned about the person pictured in "Nicking a few", the police realized they'd wrongly arrested him, and released him within about 20 minutes.

There were at least two other people arrested, one of whom was bailed late on Friday evening (and ordered to go to any Jewish premises in Camden!), and one of whom was charged at the last possible moment, and then refused bail.
Kevin

---
31.01.2009 12:16
The final arrestee was released this morning.
Guido

---
31.01.2009 12:41
Hiya, just to say, need 2 or 3 witnesses for the court case ensuing from this. Can anyone who's interested please give Moss and Co solicitors (0208 986 8336) a call? Thanks.
Jim (climbey bloke)

---