Mike Wells | 25.01.2009 22:21 | World
Demonstrators marched past bbc to complain against the bbc's refusal to allow DEC appeal to raise funds to help with the humanitarian crisis in Gaza. Also to air their grievances about the bbc's general reporting of the situation in Gaza which many allege has been biased.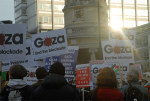 Demonstration marches on down Great Portland St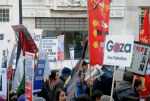 Past the bbc building with security staff inside looking on

And past a guarded Starbucks on Regents Street
Many people took the opportunity to demonstrate their lack of faith in the bbc's reporting of the situation in Gaza by marching past their building on Great Portland Street.
Though I do not have personal evidence of this I have met one journalist who has worked in the region who argues that much of the mainstream media simply regurgitate IDF press releases as fact.
Mike Wells