SHAC | 23.01.2009 16:52 | SHAC | Animal Liberation | Repression | Social Struggles | World
SWEDISH ACTIVISTS' REGULAR PROTEST AT HLS COLLABORATOR
UK SHAC 7 SOLIDARITY DEMO IN VIENNA, AUSTRIA
UK SHAC 7 SOLIDARITY DEMO IN HAMBURG, GERMANY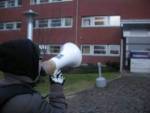 SWEDISH ACTIVISTS' REGULAR PROTEST AT HLS COLLABORATOR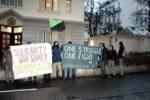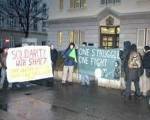 UK SHAC 7 SOLIDARITY DEMO IN VIENNA, AUSTRIA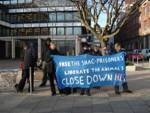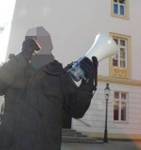 Tuesday, 20th January
AstraZeneca demos continue
Activists in Gothenburg were once again outside AstraZeneca protesting against their filthy cooperation with HLS. The lead word for the demo was rage. We shouted, screamed and held angry speeches, welcoming the workers with leaflets on their way home.
This day was in solidarity with UK SHAC 7, who just got senseless sentences for legal protest. We just want you to know that we think about you and that the struggle continues, as always. Until all are free
===================================
Wednesday, 21st January
Worldwide there have been a build up of repression of SHAC activists Solidarity actions. On the day of the sentencing, protests took place in Vienna, Austria, spontaneously angry and caring people to show solidarity with those affected.
Today at about 16:30 11 people gathered to a spontaneous demonstration in front of the British Embassy in Jauresgasse 12 in 3rd District in Vienna. With 2 banners "Solidarity with SHAC7 - Free Dan, Gregg, Heather, Natasha, Dan, Gavin, Gerrah" and "One Struggle, One Fight" was vociferously chanted against the verdict announced today against seven UK SHAC (Stop Huntingdon ANIMAL CRUELTY) activists demonstrated.
SHAC is an international campaign by compassionate individuals and was founded in 1999 in England. The goal, to close of one of the largest animal testing laboratories, Huntingdon Life Sciences (HLS). In the nearly 10 years it has been incredibly successful campaign, with massive influence over the years of the shares of HLS, and countless companies and investors have had theri business relationships with HLS put into the public eye.
HLS have always been protected under the arms of the British government, giving then insurance and banking falicities when no other company in the world would touch them.
Over the last 10 years in England the laws against Animal Rights activists have been increasingly repressive and demonstrations have been continually restricted by injunctions. But this is unfortunately not an isolated case, in May 2008 the English Animal Rights activist Sean Kirtley got a four and half year prison sentence for updating a website and going on legal demos at Sequani site, which is like a little HLS but the campaign is as stong as ever.
In the North American, where the SHAC campaign is also benn successful, in March 2006, 6 USA SHAC activists were enprisoned following a new 'anti-terror' law was made up, causing them to get custodial sentences of three to six years imprisonment. Now the same has happened in the UK. It did not matter that the individuals concerned and the specific crimes were not directly linked to them and so were charged for unknown persons alleged offences. Later this year, in England, a second trial against six other UK SHAC activists will be held before the same court with the same judge. This repression against the British Animal Rights must be set in an international context.
The global response is to try to stop compassionate campaigners and protect profits and immoral jobs of the animal testing industries. Earlier last year in 2008 in Austria massive repression against Animal Rights activists. Where ten people were remanded without charges being brought for about 3 months in detention, they were later released, the case is still pending.
Freedom to all SHAC prisoners in England, and in the USA! Huntingdon Life Sciences will close, once and for all! Lets make it happen.
From original story on German indymedia:

http://de.indymedia.org/2009/01/240113.shtml
===================================
Thursday, 22nd January
In Hamburg, about 10 activists demonstrated against the conviction of UK SHAC 7 Animal Rights campaigners to multi-year prison sentences in Britain.
In Hamburg today demonstrated about 10 activists in front of the office of the British Honorary Consul, Claus-Günther Budelmann against the conviction of 7 campaigners in Britain. The were accused of a "conspiracy to blackmail of businesses" Just because SHAC have been a political and effective campaign calling for the closure the of Europe's largest animal testing laboratory group HLS, based in the UK and US.
Legitimate protest against the perpetrators of systematic violence against laboratory animals isl be criminalised, and any form of coordinated political campaigns of the 'preventive' law enforcement and judicial. The Animal Liberation movement is currently one of the world's strongest. These repressive measures are a sign that their protests against violence socially mediated effect on animals. SHAC's attack is where it hurts: In the economic system and in the society within which the domination relationship to non-human animals is incredibly strong. With Megaphones and loud voices we made our fellings known to the Honorary Consul and passers-by informed about the facts and made clear that the conviction and imprisonment of the campaigners from the UK willnot be tolerated without resistance.
From original story on German indymedia:

http://de.indymedia.org/2009/01/240135.shtml
Further information (in German):
Report of a solidarity demonstration in Vienna with further details about the case in Britain:

http://de.indymedia.org/2009/01/240113.shtml
Web page with information about repression against AR activists in Austria:

http://www.antirep2008.tk/
Hamburg Animal Rights:

http://hamburg.antispe.org/
Interview with the social scientist Melanie Bujok about the repression against the animal rights movement:

http://de.indymedia.org/2008/08/225683.shtml
SHAC


e-mail: info@shac.net


Homepage: http://www.shac.net