IMCista | 21.01.2009 01:30 | Anti-militarism | Palestine | Repression | Birmingham
Saturday the 17th January 2009 saw the biggest demonstration in Birmingham since the beginning of the invasion of Iraq. 6000 people were estimated to be present at the march to protest their anger at the murder of over 1300 Palestinians in Gaza, our government's total failure to take any diplomatic action, and the corporate media's predominantly pro-Zionist stance.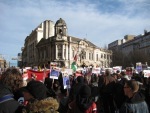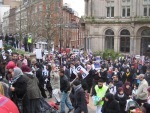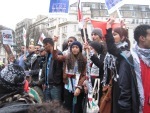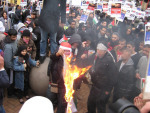 compulsory flag burning, no protest is complete without it these days..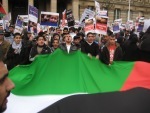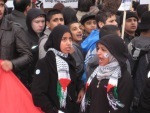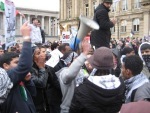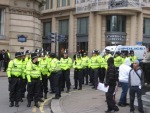 well, it is kind of becoming a tradition now..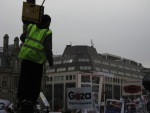 spying for people with 'oppositional defiant disorder'..
At 12.00pm in Victoria Square there was a sea of people of all ages carrying Palestinian flags, banners, effigies of dead children, drums, instruments, and megaphones. There were speeches from a variety of politicians on the main stage, decrying the actions of Israel and of Birmingham city council's non-cooperation with the planning for the route of the march in the aftermath of last Tuesday's Israeli boycott recommendation. However an 'agreement' had been struck with the police by the organisers (Birmingham Stop the War and Palestine Solidarity Campaign) to allow the march to go ahead legally. The protest had been widely publicised by various Birmingham political groups and websites, a Facebook group joined by over 1200 people, and word of mouth.
There was a large presence of around 100 or more police officers, 30 police vans, and between 70 to 80 stewards to 'mediate' people's dissent. Soon the crowd became restless with the relentless and often boring speeches, so the march commenced with a police helicopter looming high over-head. Meanwhile police lines flanked the front and rear of the march and stood guard outside the nearby Starbucks; probably in response to the not-so-wanton destruction of four Starbucks shops in London due to their CEO Howard Schultz's open Palestinian prejudices. At the front of the crowd there was a special 'VIP suite' surrounded by stewards to keep the local politicians from having to mix with their constituents. They all had rather worried looks on their faces, they were probably not comfortable with the 6000 strong group of noisy locals angrily pushing their way behind them. The march proceeded up Colmore Row, around St. Phillip's Cathedral, down to New Street, and back up towards Victoria Square. As the crowd arrived people at the front attempted to walk towards Chamberlain Square, but were soon herded back by Ger Francis and his team of stewards, ready to be sedated by yet more speeches. Meanwhile, police evidence gatherers (identified by their cameras and "EGT" insignia on their uniform) were spotted filming anyone they did not like the look of; the team consisted of three officers, one filming and a spotter on either side. The Indymedia cameraman stood behind them and began to film what they were filming (predominantly Muslim youth from first impressions), but was soon told that this activity was illegal as the footage was 'evidence' despite no crime having been committed.
Back in Victoria Square after the march, there were some more speeches from the stage whilst the protest continued. A group of youths set fire to an Israeli state flag but were soon surrounded by stewards who said that they were frightening surrounding people. However the women, men, and children watching the flag-burning cheered loudly, and appeared to have a look of mild amusement on their faces (see photo) rather than fear. The youths 'responsible' were then hounded by the stewards for the remainder of the protest, worried that they might cause more 'trouble'. Meanwhile, lines of police had moved in to block every exit of Victoria Square. An IMCista asked the police to explain what they were doing, and unbelievably they candidly responded that they were "filtering people out in ones and twos" so they would "lose the will to protest". Soon a large group of around 80 youths formed at the New Street side of Victoria Square, and a protestor with a megaphone encouraged the crowd to chant "Free Free Palestine!" and jump around. The noisy crowd began to march off and a group of panic-stricken stewards ran to surround them and attempted to redirect the crowd away from the police lines blocking the exits. Soon the crowd was entirely encircled by stewards holding hands, who managed to march the crowd around in circles for five minutes until they had lost the will to live, presumably to head off any conflict with the police preventing people from exercising their democratic right to protest in a location other than the 'delegated protest zone'. After the stewards had diffused this 'unruliness', two stewards were spotted harassing a group of around 15 Muslim youths walking towards the police lines, and attempting to prevent them from leaving. Clearly it had not occurred to the stewards that these teenagers had every right to leave together as a group, should not be prevented from doing so, and should be supported in the face of this police repression. After the stewards were challenged by an IMCista who stated that they had the right to walk where they please, the group headed towards the police lines where they were predictably harassed further and prevented them from leaving as a group. The police were interrogated about what law they were using as a Section 60 had not been imposed, and after about 10 minutes of direct confrontation a senior officer stated that they were using 'Breach of the Peace'. Since no breach of the peace had taken place at the event, this was an erroneous use of the law as highlighted by the case law (see link below) which states "..the power to detain to prevent a further breach of the peace is limited to circumstances where there is a real rather than fanciful [future] apprehension..". In other words it cannot be applied collectively to 6000 people:-

http://www.wikicrimeline.co.uk/index.php?title=Breach_of_the_peace
Outside of the police lines a group of young Asian women and men had gathered and were walking down New Street chanting with their placards. The police were stirring, watching them intently, but with no central chain of command they were not in a position to prevent this 'crime'. However they were chased down New Street by two stewards who had the arrogance to tell them they had no right to be protesting outside of the 'designated area', that they were 'causing trouble', and this was not a 'civilised' way to behave. One wonders why these stewards are reinforcing negative racial stereotypes of Asian youths, as this age group were clearly singled out from the beginning of the protest. Outside of the police lines, there were small disparate groups walking around with placards and regrouping outside Israeli supporting shops such as Starbucks, Tesco, and Marks and Spencer. People appeared to be using boycott leaflets handed out at the protest to identify the culprits. However, the harassment and intimidation from both stewards and police continued, particularly outside of Marks and Spencer where up to 30 police gathered.
This was an almost unprecedented protest for Birmingham in terms of numbers and emotions, but yet again crowd control has been applied by the organisers to dictate where, when, and exactly how people protest. An article written by Ger Francis, a key organiser from the Respect party is revealing:-

http://www.socialistunity.com/?p=3408
He states that forces within the Birmingham city council leadership not surprisingly attempted to scupper the march by withdrawing cooperation, and he considered this a trap to trigger clashes at the protest to discredit the organisers, in particular Respect councillor Salma Yaqoob. However there is far more to Palestine solidarity than turning up to a march and asking self-appointed community leaders to lobby the council. This approach is vanguardist and subordinates citizens to a role where they have to plead with an evidently recalcitrant state to make amends. It was clear from the outset that a large section of the protestors were intent on taking their legal protest directly to the offending corporations which adorn our high streets, but were stifled and compromised every step of the way by the march organisers. As well as civic duties the police have a hidden political role in our society; to stifle the efficacy of protests and minimise dissent. Anyone who has been involved in activism for a length of time can account for this. The police often threaten organisers with the cancellation of future marches to narrow the scope and tactics of protest as was evidenced at the 2003 Birmingham Iraq war protest, which is my guess to why the Gaza march organisers were actively colluding with the police. It is an unspoken rule. Ger Francis's main priorities seem to be promoting Salma's electoral cachet by championing her as the leader of the council Israeli boycott, despite various grassroots campaigns working tirelessly behind the scenes and without any expectation of credit for their work. Any behaviour seen as 'unrespectable' was stamped down on even if it was an effective form of dissent and beneficial to the overall movement for the liberation of Palestine. Protests are a way of forming a concrete realisation of dissent and solidarity in the minds of people, but without encouragement for people to become an active part of the broader movement, protest is simply disempowering. This obsession with respectability undermines any potential for direct action. This week has seen occupations of university buildings across the country including Birmingham University, the 'decommissioning' of an arms factory in Brighton, a protest at an arms factory in Lichfield, and settlement produce being moved from supermarket shelves into abandoned trolleys; all worthwhile tactics which should not be discouraged.
Birmingham is fast becoming the shopping capital of the UK, a goal relentlessly pursued by the leadership of the city council. In this light it is no coincidence that local councillors are attempting to steer dissent away from the very corporations on our high streets supporting the occupation, and towards a subordinated role of asking politicians to affect social change. Real and effective dissent might actually just work, but would cause the council a real shit storm from their rent payers. These corporations pushing settlement produce and funding the Zionist project should not go unchallenged, they should face direct and public condemnation.
This is a call to action..
See you on the streets!
IMCista

22.01.2009 10:50
There's a film of the protest here:

http://www.indymedia.org.uk/en/regions/birmingham/2009/01/419673.html
It focusses on the stewarding of the demo and the way they colluded with the police to stifle dissent and spontaneous protest.
IMCista

---