Paul | 18.01.2009 23:02 | Anti-militarism | Palestine | Repression | South Coast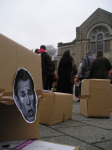 One of the targets for the shoe throwing...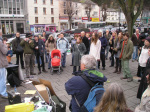 Managed to get a few more people to speak this time.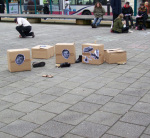 Wahey, knocked over Ehud Olmert!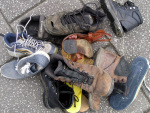 Quite a few people brought shoes. They're being sent to the Israeli Embassy.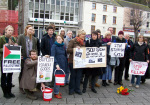 Posing for a press shot, with our MPs in the middle.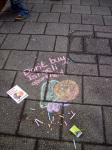 There were loads of other chalk messages; thought I'd leave you with this one.
Around 100 people turned up over the course of the 2 hours, including two local MPs - Terri Teverson and Julia Goldsworthy. That's a lot of people for a small Cornish town in January, especially considering it wasn't a rave. We leafletted, chatted with people - the overwhelming majority of passers-by were supportive - held silences, had a number of people speaking, and threw shoes (see below; all the shoes are now being posted to the Israeli embassy.) £192 was raised for the Red Cross Gaza Appeal, and there was enthuseam to keep the momentum going for future campaigns. E-mail me to get involved.
Paul


e-mail: paulrobotwalker@yahoo.co.uk


Homepage: http://www.falmouthgazasolidarity.blogspot.com