flash | 17.01.2009 12:15 | Climate Chaos | Ecology | Social Struggles | Cambridge
[London,Sat 17] Midday today, five hundred people flashmobed Heathrows Terminal 5 in protest at the governments decision to give the go-ahead on building a third runway and yet another terminal. Among the mob were four naked women, lots of red 'no expansion' t-shirts, umbrellas and Heathrows largest conga dance. It was all finished
within an hour.
The flashmob had been called for the first saturday after the decision on the airports expansion plans and comes at the end of a packed week of protests which has already seen the domestic departures lounge of terminal three occupied by a Climate Rush dinner, a plot of land purchased by campaigners in the middle of the propose new runway and sufftragettes esculating the militancy of the campaign by smashing windows at the governments Department of Transport.
The week also saw twenty four Plane Stupid activists quietly sentenced for their part in the blockading of Standsted airport late last year.
Many more actions are expected and the Climate Camp is holding a national gathering in Oxford next weekend at which proposals to shut down Heathrow airport down completely for a day are expected to be discussed.
flash

17.01.2009 16:42
more details and proposals here:

http://www.climatecamp.org.uk/node/471
greentea

---
17.01.2009 21:56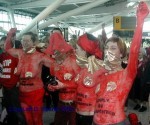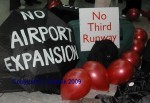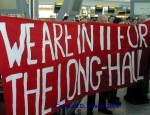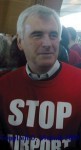 John McDonnell, Labour MP for Hayes & Harlington shows solidarity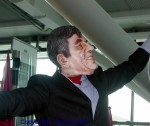 Even Prime Minister Gordon Brown joins in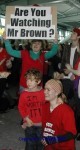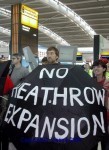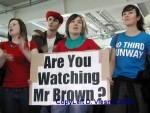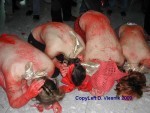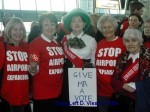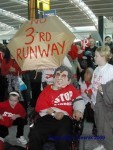 Images from "Flashmob" protest at Heathrow Terminal 5 departure lounge on Saturday 17 January, 2009 in protest at Government plans to build a third runway at the airport.
All images CopyLeft D. Viesnik 2009. No commercial use without permission. Any non-commercial use to be credited. Contact e-mail address provided for full-size versions.
dv


e-mail: dv2012 [at] yahoo.co.uk

---