Peter Marshall | 04.01.2009 16:31 | Palestine | Repression | World
A few of my photos from the start of the march and at the Israeli Embassy. Unfortunately I lost the card with most of my pictures for the day while photographing near the embassy. Pictures Copyright (C) 2009 Peter Marshall, all rights reserved.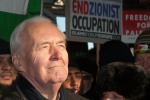 Tony Benn looking well at the start of the march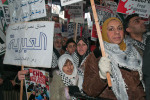 Many protesters came as families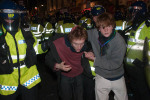 An man is treated for his injuries
A few more pictures will appear on My London Diary

http://mylondondiary.co.uk
shortly.
Things got a little chaotic close to the embassy and my trousers got torn. I'd put a filled CF card in a pocket and it got lost through the tear. So my apologies to those people I photographed whose pictures don't appear here on on the web site.
Peter Marshall


e-mail: petermarshall@cix.co.uk


Homepage: http://mylondondiary.co.uk
04.01.2009 18:36
Peter Marshall


e-mail: petermarshall@cix.co.uk


Homepage: http://mylondondiary.co.uk
---