Solidarity is our weapon | 14.12.2008 11:22 | Repression | Social Struggles | Birmingham
On Saturday December 6th, 15 year old Alex Grigoropoulos was shot dead in cold-blood by police in the Exarhia district of Athens following an altercation between police and local youths. He was taken to Evaggelismos hospital where he was pronounced dead.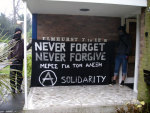 Outside the Greek Consulate in Birmingham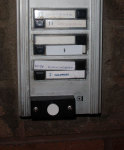 Consul: Mr.Christopher PHILIPPIDES 7 Elmhurst 5 A Norfolk Road Birmingham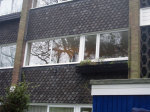 In Greece this was the straw which broke the camel's back. After years of increasingly frequent police brutality, several high-profile white-washed police murder cases, and neo-liberal government policies which have strangled the hopes and dreams of the youth, they are fighting back to reclaim their future.
Riots spread across Athens, and soon throughout the country. Dozens of police stations have been attacked in retribution, and hundreds of banks, chain stores, and government buildings which symbolise debt, wage exploitation, and ever-increasing wealth disparity have been destroyed. The riots have been fuelled by the widespread anger that the government has bailed out the banking industry, the very institutions which have caused this global recession; a policy which amounts to welfare for the super-rich and which future generations will pay for.
Meanwhile, the murderer has thrown fuel on the fire by refusing to show regret for his actions, and has been outed as having familial links to the fascist 'Golden Dawn' group, which the police have been using as a proxy for violence against protestors. Mainstream media outlets have swallowed the Greek state's outright lies that it was 'local business owners' who fought back against protestors, despite a video circulating the internet which evidences a police chief requesting the "release of the Golden Dawn people" shortly before the clashes. Furthermore, media outlets worldwide have misrepresented the diversity of the movement, dismissing the widespread political discontent of tens of thousands as 'violent anarchists'. The Greek state's propaganda machine is in full spin; a rushed inquest has concluded that Alex was killed by a 'richochet from a warning shot', contrary to the claims of numerous witnesses.
Exactly one week on from the murder, anarchists arrived at the Greek consulate in Birmingham to show solidarity for all who are struggling for a better future in Greece, all those who refuse to wait any longer for social justice, and all those who are suffering and mourning the loss of 15 year-old Alex Grigoropoulos. A banner was unfurled stating " We will not forget, we will not forgive – this is for Alex – @ Solidarity". Meanwhile a group demanded to speak to the consulate, who refused to answer the door to talk, instead opting to watch the protest and read the banner from his upstairs window whilst making a phone call, presumably to the police. You can reach the Greek Consulate in Birmingham here:
Consul: Mr.Christopher PHILIPPIDES
7 Elmhurst
5 A Norfolk Road
Edgbaston
Birmingham B15 3PR
++44 (0) 121 454 3369
++44 (0) 121 454 3369

philippidesc@yahoo.co.uk
This protest is for all those in Greece who are fighting for their future. We are the same. We will not forget. We will not forgive. We are everywhere!
Solidarity is our weapon

14.12.2008 13:03

The 15years old Alexander Grigoropoulos, who fell Saturday evening Exarhia dead in the fire of the special guard, to add to its long list of victims of police violence and afthairesias.Here a few cases where Greek Police shoot lean after the fall o Junta in 1974.
In November 1980 murdered by special forces officers during the March on the anniversary of the Polytechnic young worker Stamatina Kanellopoulou and 26chronos James Koumis. Separating the first shop, on the corner and Bucharest University, and mercilessly beaten with klomp-line with the publications of the time. Klomp synetripsan with the skull of Koumi.
In August 1985 the police officer Nikos Stathopoulos shoot and kill American Katherine John Bull, 22 years after the last refusal to be in control of the car.
In November 1985 a few hours after the march for the anniversary of the Polytechnic in Stournari falls dead by a police bullet Ath Melista the 15chronos Michael Kaltezas.
In February 1986 the 17years old Kandanoleon Manolis, who was on a stolen car, shot in the head by three policemen.
In March 1990 in Preveza Gregory Spyrakos the policeman shot and killed 15years old student Dimitris Cicero. The victim was trapped in the toilet of a shop who shortly before had tried to break.
In April 1993 the sergeant Elias Stamatopoulos killed in cold 25achrono John Tzitzi waiter in a bar.
In January 1994 the police officer kills Evangelos Lagogiannis with 4 bullets in 28chrono musician Theodore Giaka, because it failed to stop at verification data.
In January 1996 a police operation against Albanian-broom in Oropos Dionysis Karakaidos the police officer kills an Albanian.
In June 1996 the rural Ath Matos killing 20chrono Fantil Nampouzi for two watermelons that he went to steal.
In November 1996 in «business» police outside the Livadia to identify the fugitive Dimitris Trimis policeman shot and nearly killed by contact with the 45years old gipsy Tasos Mourati in front of one of his three children.
In August 1998 in Piraeus the police officer Dimitris Tsagkrakos shot and killed Elias 26years old Mexi outside the section because Metagogon not ceased mark for review.
In October 1998 in the center of Thessaloniki anthypastynomos Kyriacos Vantoulis killed 17-year-olds Marco Boulatovits Yugoslavian student, who visited with his classmates Greece.
In February 2000 the police lieutenant in Loutsa Theodore Chaloulakos shoot car in which four new epevainan, because as he said «they considered suspects for drug trafficking». The ball pinned to the backbone of the 18-year-old student Sotiris Katsioti and left paralyzed.
In March 2000 in the Upper Town Thessaloniki homogeneous 18 year-old from the former USSR Nikolaos Leonidis fell dead from the fire police Atmatzidi George, why not stopped to sign for control. In October 2001 in Zefyri constable of the Direct Action C. Tylianakis shot in the head Gypsy Marinos Christopoulos, 21 years for failing to stop at road block.
In November 2001 the in the "Plateia Amerikis" Square Yannis Rizopoulos policeman shot in the head 20years old Albanian Sentgkak Selnikou within a cafe,
In December 2003 the 22chronos Iraklis Maragakis is shot in the head by men of the Department of Police Operations Rethymnon, because the car was on along with two other youths not stopped for checking.

gar


Homepage: http://garizo.blogspot.com/
---
14.12.2008 13:21
Translation of the statement of Nikos R., which describes what happened on the night of December 6 and how the police shot his friend Alexandros Grigoropoulos

I go to the first year of high school at Psychiko Public High School. I knew Alexandros, or Gregory (the pet name we used for him, from his last name) since 4th grade in elementary school. We used to go to the same school. Until the first year of middle school we didn't keep close company. From the first year of middle school however, until yesterday when they killed him, we were close friends.

Yesterday 12-6-2008 were you with Alexandros?

Yesterday around 5:50 p.m. I went with a friend from next door to Larisis Station. Before I went there, however, I had spoken with Alexandros. He told me that he was going to go to a polo match... I told him to call me when the match was over so we could meet at Mesolongi Street, in Exarcheia. He was going to go to the match with his friend Nikos F. and P. Ch. At regular intervals we used to meet there. We planned to go to Faros Psychikou, to find our friends from our old schools and go do something together because yesterday I celebrated my name day.

In the end, Alexandros called you when the match ended. Where was he going to go?

Yes, he called me and told me to start out and he would set out as well from the athletic field... From what I see on my cell phone the call from Alexandros happened at 7:10 p.m.

When did you meet with Alexandros on Mesolongi Street in Exarcheia?

I don't remember exactly. About 45 minutes before the incident. From my friend's house I went by foot. I went up Ipeirou (if I am not mistaken), then right to the Museum, left up on Stournari up to the square on the right, and 10 meters afterwards is Mesolongi. I waited for him 3 to 4 minutes.

When he came what did you do?

When he came we went to a convenience store 10 meters further up and we bought something to eat and two soft drinks... We went back again to the sidewalk on Mesologgiou Streeet to eat and talk.

Where exactly did you sit?

We sat there by the entrance of an apartment building at the intersection of Mesolongi and Tzavella, on the left side where we were watching Zoodochou Pigis Street. There they have three railings on the walkway where you can sit. We sat there. (At this point they show the witness a printed map of the area.) We ate the things we had bought and suddenly, as we were talking, we heard a somewhat loud bang. Near enough to us that we could hear it, but far enough away that we couldn't figured out what had happened. We didn't pay any attention...

Did you see light accompany the bang that you described to me?

No, because from the direction where we heard the bang, we didn't have visual contact, because there was a wall in front of us... In order to see what happens on Navarinou Street you have to leave down the middle of the walkway of Tzavella Street.

After a minute and a half we heard about 4 or 5 passers by "the cops are coming, something happened...". So out of curiosity, Alexandros and I went to the middle of Tzavella Street to see what had happened. A distance of 2 to 3 meters away... When we went out into the middle of the walkway we saw from a distance of 15 to 20 meters two police officers. They were right at the intersection of Zoodochou Pigis and Tzavella. One was taller than the other. Next they stopped at the intersection of the two streets... In front of us there was no one else. Alexandros was in front of me and I was behind and to the right of them. When the police stopped at Zoodochou Pigis and Tzavella, they had their hands, left or right I don't remember, on their weapons which were in their holsters which hang from the belt. Someone from behind me tossed an empty plastic bottle and naturally it did not reach the police. I forgot to tell you that when I saw the police, they started to curse at me and Alexandros, saying "We will f... the Virgin Mary, come here and I'll show you who is the tough guy" and things like that. The guys behind us were yelling "get back" and "go to hell..." at the police...

When someone threw the plastic bottle, the police, both of them if I am not mistaken, took their weapons out of their holsters, aimed in front of them, that is towards the place where I, Alexandros and the other person were, and three continuous shots were heard. I forgot to tell you that I am sure that one of the two police officers held his weapon with both hands. I saw then - and I am absolutely sure - that the police weren't shooting either towards the sky or towards the ground. They aimed towards our location and fired!

Alexandros fell down, if I am not mistaken on the first or second gunshot, surely anyways before the third... Afterwards, I didn't know what was going on. People were yelling and some people lifted up Alexandros' shirt. I saw that he had a hole in the middle of the chest and a little towards the heart. There was blood from the wound...

Let me tell you also that the police who fired, when they saw Alexandros fall, they left. I don't remember which direction... Then the ambulance came and took Alexandros, dead. I say this because he didn't have a pulse and there was blood coming from his mouth...

What light was there in the place where you described the incident?

Even though night had fallen, there was light from the street lamps on the poles which shines and also from the shops... Only one lamp wasn't working, to the left of Alexandros...

Do you want to tell us something else from everything you know?

The only thing I want to tell you is that they didn't kill Alexandros. They murdered him in cold blood...
Solidarity

---