Nobody Special | 13.12.2008 12:49 | Repression | Social Struggles | World
About 30 anarchists, socialists and communists took part in a demo outside the greek embassy in melbourne australia today (13/12) to express their solidarity with the militants fighting on the streets in greece and also to mourn yet another victim of state murder. There was a large armed police presence and heavy surveillance.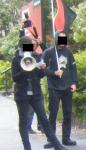 some of the anarchist speakers
Anti-police banners were raised outside the embassy in solidarity with the comrades in greece and also in defiance of the heavy armed police presence and the accompanying surveillance at the demo.
Flowers and photos were laid outside the embassy in memory of Alex.
Speakers from several groups spoke about not only state murder in greece but also of state murder here in melbourne where only 2 days ago a 15yo boy was shot to death by 4 police, apparently they were acting in 'self-defence'.
The speakers also expressed their solidarity with the rebellion in greece.
Due to the overwhelming police presence the demo was mostly symbolic in nature, however representatives of the various groups who were in attendance will be heading back to their communities to organize future actions.
Nobody Special