Peter Marshall | 26.11.2008 21:50 | Repression | Social Struggles | World
Burma Democratic Concern

http://bdcburma.org
organised a 24hr hunger strike in solidarity with Burmese political prisoners starting at 9am on Wednesday 26 November in Parliament Square, London. Pictures copyright (C) 2008, Peter Marshall, all rights reserved.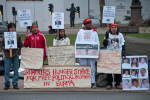 From the pavement outside Parliament (with Mandela)
In particular the demonstration was to show support for Burmese student leaders imprisoned for 65 years by the Burmese military dictatorship, and to urge the UK Government and UN Secretary-General Ban Ki-moon to take urgent action.
Those taking part wore white clothing, both because this is the prison uniform in Burma and also because white represents police.
While I was taking pictures there was heavy traffic past the demonstrators and their banners, and a number of motorists sounded their horns to express support for the cause.
Peter Marshall


e-mail: petermarshall@cix.co.uk


Homepage: http://mylondondiary.co.uk
26.11.2008 23:59

A beautiful demonstration and a very friendly bunch of demonstrators...let's hope it makes a difference to the people across the road and more power to those who braved the cold night for a worthy cause.
A.
A.

---