Peter Marshall | 25.11.2008 17:42 | Migration | Repression
London NoBorders and No2ID organised a protest at Lunar HOuse, Croydon, London, HQ of the Borders and Immigration Agency to mark the introduction of Biometric ID cards today, 25 Nov. Pictures (C) 2008, Peter Marshall.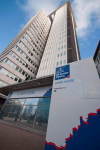 Lunar House, a 1970s block rented by the Home Office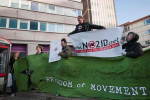 Protesters with banners outside Lunar House
n the corner of George Street in Croydon, London, a November sun was warming the shoppers and office workers on their lunch breaks, but a few hundred metres north on Wellesley Road a biting Siberian wind seared the demonstrators outside Lunar House. It seemed appropriate that such a freezing blast should surround the UK headquarters of the Border and Immigration Agency and indeed be generated by its twenty stories of the grim early 1970s office complex. After all its raison d'être is to give would-be immigrants and asylum seeks an extremely cold reception.
Its bleak anonymity is also a warning of things to come for all of us in a Brave New Britain of state surveillance and control whose infrastructure is increasingly with us through security cameras, the interception mobile phone signals and electronic communications and the planned introduction of universal ID cards.
The picket, called by London NoBorders

http://london.noborders.org.uk
and NO2ID

http://www.no2id.net/
, marked the start of Biometric ID cards, which are being issued from today, 25 November 2008, to all non-EU students and spouses applying for, or renewing visas for study or marriage. The cards will have a photograph with name, date of birth, nationality, immigration status and biometric details, including fingerprints and digital facial image will be stored on a chip on the card as well as being held indefinitely on the UK Identity Service database.
Soon all foreign nationals in the UK will be required to have these cards, which will be rolled out to other groups including students who want a student loan by 2010. And from 2011 you will need to get one – and have your details on that database - if you want to renew or get a passport.
What worries many of us is not just the use to which our own government and security services might make of such data – linking to face recognition software working on images from security cameras and mobile phone data would enable our every move to be tracked – but the certainty that it will get into other hands – such as those of our US friends in the CIA, as well as criminal and commercial organisations who will have their own ideas about how such all-pervasive data might be used.
Among those at today's demonstration was David Mery

http://gizmonaut.net/bits/suspect.html
a man who has achieved a small personal victory against the juggernaut database state.
Mery was stopped by police entering Southwark tube station on 28 July for being "calm on arrival, almost too calm" and having a largish rucksack and a strong French accent. It was three weeks after the London bombing – and - perhaps luckily for him, six days after the shooting of Jean Charles de Menezes. This time at least the police didn't shoot first and ask questions later, but his treatment in the months and years following the event can most favourably be described as Kafkaesque. He finally (or at least probably) succeeded in having both his fingerprints and DNA record removed from the police databases, but it took over two years of fighting. His blog

http://gizmonaut.net/
and articles are essential reading for anyone who wonders why civil liberties are important.
A few more pictures on My London Diary shortly

http://mylondondiary.co.uk/2008/11/nov.htm#idcards
Peter Marshall


e-mail: petermarshall@cix.co.uk


Homepage: http://mylondondiary.co.uk