visiting gog | 21.09.2008 09:32 | Anti-militarism | Migration | Repression
A few photos of the freedom of movement block and others demonstrating against forced removals at the Manchester demo against the Labour Party conference yesterday.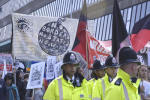 no borders, no states, no wars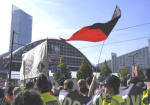 red and black at the conference
First off, the bike sound system is silenced with a threat from the cops, gangster style: 'If you don't switch it off, the STWC organiser [who appears to have taken responsibility for the behaviour of everyone on the demo] gets it in the neck.' Well, I might have misheard, but that's what it sounded like from where I was standing.
The block seems to have its own cop contingent, some of whom look very young and frightened and I wonder what's being fed in through their earpieces. There are threats of arrests if the rather fetching Gordon Brown Clown masks aren't removed. Two of the cops rush into the block behind the protective banners before the march has even started. If they're looking for trouble they get it. They are ejected quickly, firmly and nonviolently.
The evidence gathering team is heard bemoaning the difficulty of getting everyone's mugshot when they're behind banners. Shame.
Everything calms down once the march gets going, although one cop who's perched up on top of the crash barriers - the ones the Labour party feels it has to protect itself with these days - can't resist pinching one of the red and black flags as the march approaches the conference.
visiting gog