LDN Veganarchist Straight Edge | 02.09.2008 16:11 | Animal Liberation | Repression | World
The news we've been waiting to hear for the last 3 months - Christof, Elmar, Felix, Jan, Jurgen, Kevin, Leo, Martin and Sabine - the remaining 9 Austrian activists - have today (September 02) finally been set free!
Since the end of May the 9 activists (Christian had been released earlier) have been charged with 'Forming a Criminal Organization,' under 278a StGB of the Austrian penal code. The appeal court explained that there is still a danger of committing further crimes, but the pre-trial detention cannot be upheld if the expected penalties bear no relation to it. The second reason for detention, danger of suppression of evidence, is by law limited to two months, which have long expired.
we are still working on getting some more info in English available to all.
We are all overwhelmed and extremely pleased and wanted to take this opportunity to thank you for your kind support over the last couple of months. Every letter, petition and demo you participated in has had a direct impact on the campaign to demand justice for the TEN and is greatly appreciated! Many thanks!
We shall no doubt be in touch with more info but in the meantime if you have organized a demo on the next Global Solidarity Day (this Friday, 5 September) we hope there's enough time for you to inform others as well.
More info: AustriaSolidarity.com
LDN Veganarchist Straight Edge

03.09.2008 19:29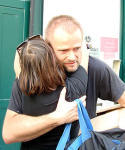 Martin Balluch, reunited with his girlfriend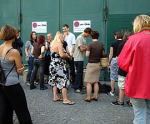 The first Animal Rights Prisoner already have been released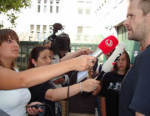 A lot of Media was also present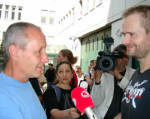 And Peter Pilz, of the Austrian Green Party, here to welcome Martin Balluch

http://vgt.at/presse/news/2008/news20080903_en.php
solidarity

---