TVCA bunny | 11.08.2008 23:45 | Climate Camp 2008 | Climate Chaos | London | Oxford
An affinity group from Thames Valley Climate Action, inspired by this year's climate camp, occupied the lobby of BHP Billiton today, supergluing themselves to the doors and windows and climbing onto part of the architecture. After several hours, they managed to negotiate leaving without any arrests.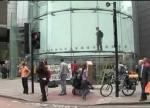 Front of building with activist visible on top of beam inside
BHP are the world's biggest mining corporation. Based in Australia, they are responsible for mining hundreds of tonnes of coal, as well as for human rights abuses worldwide. One example is their involvement in Cerrejón, the world's biggest opencast mine, in Colombia, which has displaced 14'000 people.
With all this in mind we decided to disrupt business as usual at BHP's head offices in London. We scattered coal in the lobby, glued to the revolving doors and nearby windows, while a second door nearby was D-locked. Meanwhile a team of mischievous ferrets slipped upstairs in suits to see what else could be done, while others held a banner outside saying 'BHP: Undermining the future' (a play on their vacuous corporate slogan) and leafleted the intrigued passers-by.
When the 'ferrets' were dragged back down to the lobby, they joined the rest of us. One of them also glued to the revolving door, while the other held a 'Coal Hearted Killers' banner and eventually managed to scramble up onto a bit of the structure.
A couple of cops eventually showed up, but there was a tangible reluctance on the part of BHP to escalate the situation; they seemed to want to do anything necessary to get us to quietly go away! It was mainly because of this (and because they didn't have any easy way of getting the climber down) that we were able to negotiate getting everyone away without arrest, after the glued on folk had been unglued by the police using a special chemical solution.
We adjourned to a nearby pub where we sat in mild shock at having done what we planned to do without the expected hassle of arrests..
We can heartily recommend paying them a visit! The massive plate glass windows provide a good view for passers-by, media etc.
BHP Billiton Plc
Neathouse Place
Victoria
London SW1V 1BH
There are also plenty of other similarly evil outfits around central London - do your own research!

http://tvca.atspace.com/

http://leaveitintheground.org.uk/

http://www.climatecamp.org.uk/
TVCA bunny