mini mouse | 10.08.2008 08:09 | Climate Camp 2008 | Climate Chaos
8.30am and RAF Search and Rescue is hovering overhead. Pirates are hiding in the bushes at Upnor beach, timbers a'shivering. Police believed they'd be constructing rafts at the camp, but the reality is they'd been built and buried in the woods two weeks before.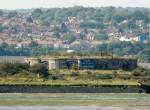 One crew stopped off at this old fort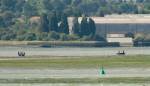 but got caught by the falling tide and had to walk the final distance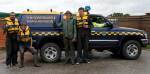 The coastguard. Friendly but scathing about lifejacket seizures
The helicopter flies off upstream, and crews pour out of the woods. The inflatables got off easily, the IKEAs (build it yourself rafts) had a little bit more trouble and two, sadly, were intercepted by police launches almost immediately.
Others got away fine though, and sailed happily down the Medway towards Kingsnorth.
One crew stopped off on the way at an old fort to make a banner drop "Coal - Starting Gun for Climate Chaos" before ploughing on against a falling tide and getting stuck in the mud.
Afterwards we met up with the Coastguard. They were very friendly and complimented the crews on their attention to safety. But they were scathing about police activity earlier in the week. "When we heard they'd raided the camp and seized life jackets our hearts dropped" they said. "It was irresponsible and could have put lives at risk".
mini mouse

10.08.2008 09:06
mini mouse

---
10.08.2008 09:21
mini mouse

---
10.08.2008 23:31
The search and rescue team were out because of reports of a man seen in difficulties in the Medway by a local fisherman around 6:30am, river police recovered a body from mudflats near Rochester station later in the morning. Although details are vague, it seems he was drunk.

He had no known connection to the Climate Camp or the rebel rafters.
jenny

---