fitwatch | 06.08.2008 10:40 | Climate Camp 2008 | Repression
Along with the vast numbers of ordinary plod stinking up the Hoo peninsula, there are of course plenty of FIT units harassing locals, protesters and anyone they don't like the look of.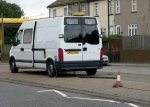 ANPR van on the A228 at Chattenden
Taking a break from following twelve year olds round housing estates are the Operation Leopard team from Essex, who are so proud of their work they've covered the words "Forward Intelligence Team" on their backs with tape (see

http://www.guardian.co.uk/uk/video/2008/may/30/operation.leopard
& tenth pic). Also, the Kent FIT don't have blue-and-yellow jackets (first pic). NETCU officers are using unmarked Vauxhall Vectras, while the local Branch have Skoda Fabias.
All Met cops unless noted otherwise.
fitwatch


e-mail: defycops@yahoo.co.uk


Homepage: http://fitwatch.blogspot.com/
06.08.2008 15:01
Fitwatcher

---