maqui-px | 30.07.2008 20:04 | Climate Camp 2008 | Climate Chaos | Social Struggles | London
Wednesday 30th July, the fourth day of the Climate Caravan traveling to this year's Climate Action Camp in Kingsnorth, Kent. The theme of today's leg was 'Climate & Capitalism', and so, there's probably no better place to point out the links between Climate Chaos and Capitalism's obsession with making bucks out of the depletion of the planet's natural resources, than the Square Mile.
Fleeing penguins and polar bears, and climate refugees on boats migrating due to the devastating effects of climate change, invaded London Bridge at about eleven in the morning, and they slowly made their way into the City of London. The traffic in London Bridge was brought to a standstill for about one hour, whilst protesters gave away hundreds of leaflets and the Camp's newspaper to the passers-by.
The Caravan then moved into the City itself, with a detour through several of the City's main landmarks. It eventually stopped at the global investment banking and securities firm Goldman Sachs, where a long speech was made through the bike sound system about the sort of 'investments' Goldman Sachs are involved in, and how this relates to Climate Change and its effects on communities and the environment. It was also pointed out that Goldman Sachs had already been targeted before by the Justice For Cleaners campaign, for their low standards of employment conditions for the City's army of invisible cleaners.
The Caravan then moved to St Paul's Cathedral where it stopped for a couple of hours for lunch. A photo exhibition was set up, whilst the bike sound system kept playing chill tunes for the participants, as well as for the many tourists that approached it to find out what was all that about.
The Caravan then set off for the meeting point at Liverpool Street station, where it was joined by some more people waiting there. It then moved to the nearby headquarters of the Royal Bank of Scotland, where bags full of pennies where thrown at the main entrances to symbolize the corporation's investments in Climate Chaos.
Here there are some pics of the day: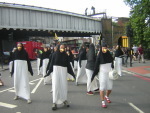 Penguins invading the southern end of London Bridge ...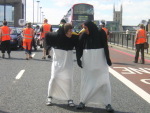 ... some of which seemed quite baffled about their new environment ...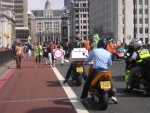 The back of the caravan moving along the bridge ...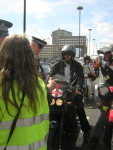 ... with some motorists getting a bit impatient.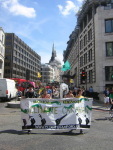 The Caravan then moves into the belly of the beast ...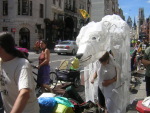 ... and a confused polar bear.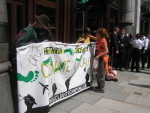 The Caravan eventually stops at the City headquarters of Goldman Sachs ...

... and later on at the headquarters of the RBS ...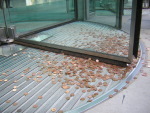 ... where bags full of pennies were thrown at the bank's entrances ...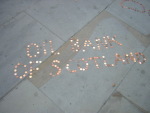 ... and leaving some messages to the bank ...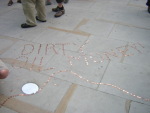 ... to make it clear to the continuous flow of employers what was all about...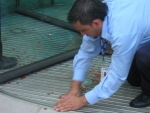 ... but at the end someone is always told to do the ineresting jobs.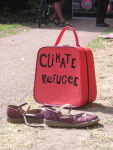 Anyhow, lets hope this climate refugee made it to somewhere safe.
maqui-px


Homepage: http://www.climatecamp.org.uk/home?q=node/21
30.07.2008 20:59
Here:

http://www.minimouse.me.uk/cca2008/caravan_1/
and here:

http://climatecamp.org.uk/image/tid/2
Heathrow conference:

http://www.minimouse.me.uk/cca2008/conference/
maqui (repost)

---
15.08.2008 17:44
...aka What the Breakout Penguins Got Up To on 30.7.08
Having slipped a sluggish police escort, a rebellious gaggle of 5 penguins and one human friend parted temporarily from the delights of the Climate Caravan's St. Paul's Cathedral lunch stop and headed towards three little known companies that are doing very nicely from nuancing the brands that are trashing our future, not to mention trashing our here-right-now:
1. Fishburn Hedges (

http://www.fishburn-hedges.com
): long-term brand managers for Shell. We enter on pretext of auditioning for role of penguin in new (fictitious) Shell ad campaign. Visited particularly in solidarity with the people of County Mayo, Ireland, who are currently experiencing - and resisting - the latest in a long line of thefts of their land and liberty in the name of shipping in more offshore gas and boosting the last gasp of Shell's end-of-oil/gas profit grab. We beg for ice, and/or icecap on fiercely hot afternoon. Office workers bemused, consciences possibly pricked and work disrupted for 30 minutes.
2. Masius (

http://www.masius.com
): genius ad agency behind BAA's new 'To fly for' campaign, (ie. fly through our airports for the sheer joy to be had by shopping/eating McMuffin in etc.) Weary, avuncular, once-maybe-kind-of-politicised boss tries to usher us out, to little avail, until we reckon our work (including a gentle, soulful chat with sub-contracted, possibly uncomfortable interns) is done. 30 minutes or so and out. No take up from boss of suggestion that he share with us a bottle of chilled chablis in nearby Charlotte Street haunt.
3. TBWA (

http://www.tbwa-london.com
): genius ad agency (pt. II) aka - sickbag please, nurse - 'the disruption agency' behind most of E.ON's current turbocharged greenwash assault on the UK public's hearts and minds. They deny E.ON connection. We panic deep within our beautiful but ever-so-slightly ridiculous penguin suits until - praise be - we stumble across E.ON's entire current 'aren't we the caring-est?' ad campaign in the reception area. We are tempted to think these people weasels, but courageously resist badmouthing undeserving animal species in desperate search to describe a certain strain of less-than-called-for human behaviour. Leave after half hour, gagging metaphorically at low point sunk to by human beings, gagging physically for cold beer. Have innate faith in beauty, canniness and resilience of humans restored by accidental interaction with delightful motorbike courier. Shuffle more-or-less elegantly over to Hackney City Farm to join rest of Climate Caravan for singing and revelling in midst of lovely urban/rural interface...
PS. This was another direct action on the ad/PR industries, along the lines of the Fossil Fools Day visit by London Rising Tide to Y&R, ad agency to Land Rover/BAe Systems etc. (

http://www.indymedia.org.uk/en/2008/04/395343.html
) Isn't it time to let these purveyors of phoney dreams feel a little heat?
PS. Goldman Sachs was visited earlier in the day because it sells its services to E.ON...
Penny le Guin

---