maqui-px | 16.07.2008 19:53 | Education | Free Spaces | Social Struggles | London
Wembley teachers and local people continue their occupation today despite the threats of forced eviction and possible arrests. Local teachers and supporters are determined to resist the injunction served earlier today by council bailiffs. They argue that after more than two years of campaigning to keep the community sports grounds out of the private sector that wants to build a privatised academy school, they have now exhausted all avenues to keep one of the few remaining green areas accessible to the local community for sports training. The teachers and their local supporters also state that they are not going to give in without a fight, as the building of the planned Wembley Academy is part of Brent's council drive to privatise schools, turning education into a profit making business instead of a basic human right beyond the 'logic' of the market.
This afternoon we got a sms calling for urgent support as it was expected that bailiffs with specialised equipment and police would be arriving on site by 4pm. We set off to Wembley to show our support to one of the few examples of grass roots autonomous organising and resistance we've seen in London that escapes the usual (and expected) 'activist' scenes. As soon as we got there we realised that today's alleged eviction was yet another bluff in the 'threats and wait' game the bailiffs are playing. An earlier eviction had been set for yesterday afternoon, when around 50 local people turned up to show support. That one didn't materialise neither, and so now the protestors are expecting it at any time. They have therefore now taken permanent positions on the roofs of the building next to the sports grounds, with at least one protestor already locking on to the main mast. The protestor's claims that the sports grounds are a vital resource to the local community, was reinforced whilst we were there when a local football team turned up for their usual training.
The general feeling is that most probably the eviction will happen 'by surprise' in the early morning, and quite possibly tomorrow thursday morning, and so they maintain their call for urgent solidarity and for people to go up there and show their support.
See below some pics of the occupation today: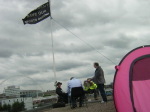 Protestors on the roof's 'tent city'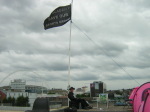 Protestor ready to resist the eviction ...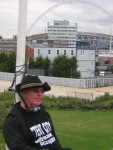 ... with part of the sports grounds up for privatisation below.
For more details contact 0776 2737 306 or 0784 3282450

hankr@hotmail.com
Wembley Tent City Occupation
www.tentcityoccupation.co.uk
Wembley Anti-Academy Tent City Occupation, Bridge Road, Wembley.
Nearest Tube:
Wembley Park (Metropolitan Line)
Turn left up the hill, and then left again at The Torch pub.
Buses
302 from Mill Hill and Kensal Rise
297 from Willesden Garage
83 from Golders Green
maqui-px