ALF/FLA/DBF | 14.05.2008 15:54 | SHAC | Animal Liberation | Ecology | World
12-14th May 2008
MORE TROUBLE FOR STAPLES (USA)
CHICKENS GIVEN NEW HOME IN OPEN RESCUE (Finland)
FOIE GRAS SUPPLIER HIT (UK)
RABBIT BREEDER EMPTIED (Sweden)
TARGET: STAPLES - HLS SUPPLIER (USA)
MEAT MARKETS ATTACKED (Mexico)
PIGLETS SAVED FROM SLAUGHTER (UK)
25 HENS LIBERATED (Netherlands)
ANIMALS RELEASED FROM WILDLIFE PARK (Germany)
CIRCUS PROPAGANDA DESTROYED (Sweden)
RABBITS RESCUED, FUR SHOP PAINTED, ZOO PROTESTED (Italy)
DOGS RESCUED FROM BREEDER (Germany)
RESTAURANTS SABOTAGED (Mexico)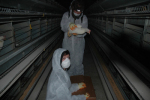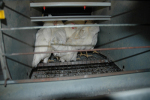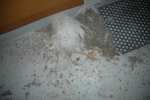 CHICKENS GIVEN NEW HOME IN OPEN RESCUE (Finland)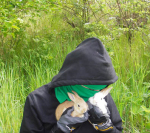 RABBIT BREEDER EMPTIED (Sweden)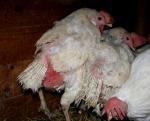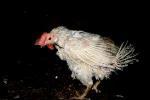 MORE TROUBLE FOR STAPLES (USA)
anonymous report:
"Wednesday night after business hours in Ventura County, California, 2 Staples office supply stores were told to 'drop HLS.' At least 10 windows were etched in the front of one of the stores, locks were glued up, 'Drop HLS' was spray painted on the front wall, and red paint was splashed all over the entrance and sidewalk of both of the stores. This was done to remind them of the blood of innocent animals on their hands from associating with Huntingdon Life Sciences. Until they cut their ties with HLS, they can expect to have many more of their stores redecorated. All we ask is that Staples cut their ties with HLS, and they will be able to continue business as usual.
-ALF"
>>
CHICKENS GIVEN NEW HOME IN OPEN RESCUE (Finland)
press release by activists in Finland (translation):

http://www.oikeuttaelaimille.net
"On May 11, 2008, three chickens were freed from deplorable conditions at a large egg farm in southern Finland.
Wearing protective clothing, activists entered the unlocked building and gently lifted chickens down into a box. The freed hens have been moved to a new home where they will have a good life.
'In Finland, there are approx. three million laying hens. Of these, 85% live in cages where they are provided less space than an A4 paper. In large-scale egg production it is impossible to meet the needs of chickens. Hens are deprived of their right to a good life, and they are treated as robotic egg producers rather than living and sentient individuals with intrinsic value,' says Cajsa Nykvist, one of the liberators.
'When I realized how chickens are treated in Finland, I felt morally obliged to act. It is a pity that this time we could only save three hens, but it feels good that at least they will feel the earth under their feet,' says Mathias Smulter.
'This act is primarily symbolic. I hope it works to challenge people's attitudes about animals in agriculture. For me, it is very important to act transparently, so that a legitimate debate is possible,' says Emma Nykvist."
>>
FOIE GRAS SUPPLIER HIT (UK)
received anonymously:
"Clifton Meats is a supplier of any number of animals that have been through the slaughterhouse and the intensive farming industry.
On a recent night in Leeds the gate was left unlocked, we walked in and slashed the tyres on the van that was parked up, and spraypainted anti foie gras and 'meat is murder' slogans on the sides.
Two locks on the premises were also superguled.
The next time we visit Leeds we'll be cruising the streets of the city and surrounding areas looking for more of your Clifton vans.
Dump foie gras!
Animal Liberation Front
Head Office
Clifton Meats (Blackpool)
Cornford Road, Marton,
Blackpool, FY4 4QQ
Tel: 01253 697070
Clifton Meats (Leeds)
Unit 2 Beeston Royds,
Industrial Estate,
Gelderd Road,
Leeds, LS12 6EY
Tel: 0113 263 4700"
>>
RABBIT BREEDER EMPTIED (Sweden)
reported by the Djurens Befrielsefronts Stödgrupp (Swedish Animal Liberation Front Supporter's Group):

http://www.djurensbefrielsefront.com
"May 11th - Strangnas; On the night to the 12th of may activists from the DBF struck against a rabbit breeder in Strangnas. The owner is active in the Swedish Rabbitproducers, an organisation with the purpuse to strengthen sales of rabbits for meat in the country.
The breeder is small but all 12 rabbits were liberated, including four babies. All have been examined by a veterinarian before they were placed in new loving homes.
We urge the breeder to shut down - or we will be back!
- Djurens Befrielsefront"
>>
TARGET: STAPLES - HLS SUPPLIER (USA)
anonymous communique:
"Action: Incindiary device left under Staples delivery truck.
Action: Small explosive device inserted into exhaust system of additional Staples delivery truck. (If it hasn't been activated yet, it will as soon as it gets hot enough.)
When: Two consecutive nights, The last week of April.
Where: San Diego area.
Reason: Staples support of HLS in the UK is unacceptable. When you should be seeing animal torture and murder you are seeing profits instead. We hope to clear that up for you and to guide you towards the proper ethical choice.
This will continue (so many of those trucks...) until the CEO of Staples USA and Staples UK publically, and permanently cut ties with HLS."
>>
MEAT MARKETS ATTACKED (Mexico)
received anonymously:
"1 night, 4 objectives
On May 11, activists of the Frente de Liberación Animal attacked 2 large restaurants and 2 meat markets in Mexico State, in response to the murder of our animal brothers and sisters in these places. This does not end here.
FLA México"
>>
PIGLETS SAVED FROM SLAUGHTER (UK)
anonymous report:
"It has been reported that two piglets were taken from a factory farm during May 2008. Until all are free, we will not rest.
A.L.F."
>>
25 HENS LIBERATED (Netherlands)
anonymous communique (translation):
"In February activists liberated 25 chickens from a battery farm in the north of Holland.
Behind closed doors these animals live in horrific conditions. With six chickens crammed into small cages, they can't go anywhere and cannot express natural behaviors. Besides the visible physical damage that these animals suffer by being locked-up so close to each other, these barbaric unnatural living conditions cause unnecessary stress.
Two months later the chickens are used to their new lives somewhere where they can be outside and where they are taken care of very well. They clearly enjoy their newfound freedom. Just like all other animals, chickens have the right to live in freedom and not to be used as a disposable product for humans. We regret that we could not save more chickens from this hell, but each life we save is a victory."
>>
ANIMALS RELEASED FROM WILDLIFE PARK (Germany)
reported anonymously:
"A group of animal rights activists liberated non-human animals from a wildlife park near Koblenz (Germany). The doors of the enclosures were opened and fences were cracked open.
The animals got the opportunity to flee into the surrounding forest.
There were hunting seats around and inside the enclosures for bloodthirsty hunters to murder the animals.
It is obvious that this park is not only for spectators but also for murderers who can consume animal corpses in the attached restaurant.
In the park ponies are whipped and imprisoned to entertain children.
This disgusting behaviour shows the speciesistic attitude of both visitors and owners of this animal prison not only in this specific case but as a general attitude in society.
Animals are not for our entertainment or consumption they only live for themselves.
We demand a society without animal exploitation and we won't stop until our goal is reached.
This was reported by activists from the ALF"
>>
CIRCUS PROPAGANDA DESTROYED (Sweden)
recent actions reported by the Djurens Befrielsefronts Stödgrupp (Swedish Animal Liberation Front Supporter's Group):

http://www.djurensbefrielsefront.com
"May 9th - Stockholm; Over 100 circus signs were cut, painted, smashed to pieces and carried away.
May 10th - Taby; With tar, paint and bricks Carlssons fur store was attacked for the second time in a week. - DBF
May 11th - Stockholm; Circus signs destroyed.
May - Stockholm; Circus signs torn down in city centre.
May - Stockholm; Circus propaganda destroyed in Stockholm suburbs Enskede and Karrtorp."
>>
RABBITS RESCUED, FUR SHOP PAINTED, ZOO PROTESTED (Italy)
reported by activists in Italy:
"End of April - Luino (Varese)
The house of franco Di Giacomo gets splashed with paint and covered with
spraypainted slogans. Di Giacomo is a friend of Daris De Rocchi, owner of
many circuses and of Alfa 3000, the company that wants to build a new zoo
in Ravenna. De Rocchi's legal address is at this same house of his friend.
The action has been claimed in opposition to the building of the new zoo.
April - Como
Activists rescued 9 rabbits from a small farmer in Fino Mornasco and
another 7 from a farm in Montano Lucino. The cages have been smashed in
both cases and the rabbits released in a wonderful place, except 2 white
rabbits that have been rehomed.
April 25 - Milano
The fur shop 'Alta Moda' has been attacked with red paint in solidarity
with activists who were stopped by police in front of that same fur shop in
January."
>>
DOGS RESCUED FROM BREEDER (Germany)
reported by activists in Germany (translation):

http://www.tierbefreier.de/alf
"During the night of May 5, 2008, five dogs were freed from a breeder in Weimar. Of these, two were beagles and three dalmatians.
At this breeding facility animals are not treated appropriately. Rather, we found filth and feces and far too small cages. The dogs are malnourished. There seems to have been no vaccinations or anti-parasite agents given to these creatures.
We found old scars and fresh wounds on the dogs. These are currently being treated. Obviously, these animals have been neglected for some time. All the animals act appallingly fearful of people.
The animals appear to be between a few weeks and six years of age.
The animals are now in foster homes in Thüringen. Once they have been seen by a veterinaran, neutered/sterilized and cleaned-up, they will be moved into loving hands."
>>
RESTAURANTS SABOTAGED (Mexico)
anonymous report:
"On May 10, the walls, floor and windows of 2 large restaurants in Mexico State were painted by the FLA, and their large grills were made unusable.
Take what you have, get out on the street and start the war against animal exploitation!
Organization, self-management and direct action!
FLA México"
>>
Global

https://www.indymedia.org.uk/en/2008/05/398696.html
(11th)

https://www.indymedia.org.uk/en/2008/05/398463.html
(7th)

https://www.indymedia.org.uk/en/2008/05/398291.html
(5th)

https://www.indymedia.org.uk/en/2008/04/397828.html
(April)
UK

https://www.indymedia.org.uk/en/2008/05/398662.html
(ALF-CIA, 11th)

https://www.indymedia.org.uk/en/2008/05/397962.html
(ALF/ELF, 1st)
USA: Eric McDavid setenced

https://publish.indymedia.org.uk/en/2008/05/398591.html
(10th)
More information:

http://www.animalliberationfront.com
Videos:

http://www.untilallarefree.tk
ALF/FLA/DBF


Homepage: http://DIRECTACTION.info
14.05.2008 16:55
Taken from Bath Bomb #10:

https://www.indymedia.org.uk/en/2008/05/398788.html
Meanwhile, we received this anonymous report:
"In the early hours of the 2nd May, in anger at Bistro Number
5's continued sale of foie gras, Animal Liberation Front volunteers
d-locked their front entrance, costing them hours of lost revenue for the
following day.
It's high time they re-evaluated whether profiting from
animal abuse really is good business!"
ALF


Homepage: http://myspace.com/bathactivistnetwork
---