Oscar Beard | 19.03.2008 12:57 | Climate Chaos | Ecology | Globalisation | London
From an anonymous tipoff call very early in the morning two Shell service stations were found to have been D-locked and shut down for several hours on the morning of Monday 17 March 2008.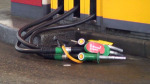 ...as angle grinders on this lot could level the block
To coincide with the Shell Day of Action and visiting members of the Shell To Sea campaign from County Mayo, Ireland, although no connection apart from solidarity, some activists took it upon themselves to shut down two of Shell's garages.
The service stations remained closed for several hours as frustrated staff used hack saws to remove the D-locks clamped around petrol pumps.
The Day of Action also saw Irish protestors deliver 20 metre pipeline to Shell HQ on Southbank London, and gave a lively protest.

http://publish.indymedia.org.uk/en/2008/03/394206.html
Shell recently declared record profits for the second year running, the second time the corporation has broken all UK records for profit made by a British company, this year declaring £13.9 billion.
But the damage from this company continues to span the globe from County Mayo in Ireland, where the unfinished gas refinery construction has polluted the local water supply with high levels of aluminium, to the continuing ecological destruction of the Niger Delta, where death and disease from pollution and pipeline accidents has become a weekly occurance.
Oscar Beard


e-mail: imc.oscarbeard@googlemail.com