John O | 14.03.2008 11:06 | Migration | Social Struggles | Workers' Movements | Birmingham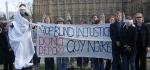 Londoners protest against blind injustice of removal to Cameroon
Evelyne & Adou are back in Newcastle
"Evelyne & Adou were released from Yarl's Wood on Wednesday afternoon after being given temporary admission. Thanks to everyone who has supported her battle against removal and detention but the fight to stay must continue." Geraldine Agbor

http://www.ncadc.org.uk/archives/filed%20newszines/newszine91/EvelyneAdou.html
++++++++++++++++++++++++++++++++++++++++
Annociate Nimpagaritse, removed, returned and released
Annociate Nimpagaritse from Sheffield was deported to Burundi on 5th March but refused entry into Burundi by the authorities there. Annociate was brought back to the UK, held at Yarl's Wood again, and later released. Please continue to campaign for Annociate to be granted leave to remain in the UK ;

http://www.ncadc.org.uk/emmaginnsfolder/emmaginnsfolder/march08/Annociate.html
++++++++++++++++++++++++++++++++++++++++
Zaman Ahmed back in Birmingham
Zaman didn't fly last Tuesday, his flight was cancelled on Monday and he made bail on Tuesday.

http://www.ncadc.org.uk/Newszine92/Zaman.html
++++++++++++++++++++++++++++++++++++++++
Christopher and Calvin George returned to Pakistan
"After three appeals, three attempted removals and six failed bail applications, and having been served with a fourth removal order earlier this week, the brothers decided to bow out gracefully. Calmly and with dignity, they agreed to return home on Wednesday and are now back in Pakistan.
Christopher and Calvin asked us not to publicise this until after they had gone so that they could say goodbye to family and friends without additional pressure. They have asked me to express their deep felt gratitude to all those who supported them and campaigned on their behalf over the last three months.
The rest of the family remain in Swansea, awaiting the outcome of their latest application to the Home Office."
Keith Ross
Asylum Justice

http://www.ncadc.org.uk/archives/filed%20newszines/newszine89/CalvinChristopher.html
++++++++++++++++++++++++++++++++++++++++
Jumoke, Elizabeth and Daniella have left the UK
Thursday March 6th: Jumoke and children were awoken at 2:00am and told to pack. She was taken to Gatwick airport arriving at 5:30am and led to the immigration rooms. I spoke to her throughout the night, until she was taken onto the plane. Many thanks for all your support, Jumoke's friends. About the campaign:

http://www.ncadc.org.uk/archives/filed%20newszines/newszine89/Jumoke.html
++++++++++++++++++++++++++++++++++++++++
Londoners protest against blind injustice of removal to Cameroon
"Don't send Guy Njike to torture": London residents gathered at parliament square last Wednesday to protest against the threatened removal of London graduate Guy Njike back to Cameroon, where he possibly faces torture. A protestor dressed up as Lady Justice in a white robe and held unbalanced weighing scales. Other protestors dressed up as security officials escorting a blind-folded protestor in hand-cuffs. A petition to the Home Secretary to stop the removal of Guy Njike has so far gathered over 1,800 signatures.

http://www.ncadc.org.uk/archives/filed%20newszines/newszine91/GuyNjike.html
End of Bulletin:
Source for this Message:
Cameroon Support Network
Annociate Nimpagaritse Campaign
Zaman Ahmed Campaign
Asylum Justice
Friends of Jumoke
Friends of Guy Njike
John O


e-mail: JohnO@ncadc.org.uk


Homepage: http://www.ncadc.org.uk