WrexhamWomen | 26.01.2008 20:45 | Anti-militarism | Repression | Liverpool
Wrexham Women for Peace and supporters held another demo at Hoole TOTAL petrol station today in support of the people of Burma.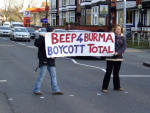 Crossing at the pedestrian crossing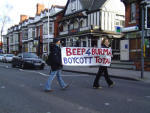 Re-crossing at the pedestrian crossing
With more people, banners and placards than last time [

http://www.indymedia.org.uk/en/2008/01/388893.html
] and a beautifully sunny morning, most members of the group positioned themselves over the road and opposite the petrol station which is on a bit of a blind bend. From here, approaching motorists had plenty of time to take in the messages before they reached the garage; even better, we were in the warm sun. The rest of us handed out leaflets to passers-by on the other side of the road and to motorists on the garage forecourt. After we'd been asked several times by a very polite and embarrassed TOTAL employee to stay off the forecourt, a lone policeman turned up in a car, but didn't even trouble to get out and put on his helmet to talk to us.
Our new 'Beep 4 Burma' banner had the desired effect, and soon the air was filled with the cheery, and occasionally startling, sound of tooting horns. Using the pedestrian crossing to, er, cross (and re-cross) with our banner also worked well.
Many motorists changed their minds and drove right on after indicating for the petrol station; others drove in and straight out; some filled up and vowed never to return; just a few refused to take the leaflets. This is a petrol station that regularly has queues for petrol on a Saturday morning. Trade this morning was no more than a trickle, with the forecourt completely empty for long periods.
After the demo, one of the participants said: "By taking a stand I felt I could contribute to raising awareness of Total's investment in Burma It was so empowering to see an empty forecourt and and realise that the people of Chester were no longer willing to give their money to a company that funds the Burmese junta."
In a rare piece of direct action by the authorities - supporting our efforts to encourage people to buy their petrol elsewhere - all motor traffic is going to be diverted well away from Hoole TOTAL garage from next week while the railway bridge is being repaired, so we might need to find another local TOTAL petrol station to visit. Suggestions on a postcard, please.
WrexhamWomen


e-mail: wrexhamwomen[at]yahoo.co.uk