Space Hijacker | 24.01.2008 15:11 | Workers' Movements | London
Realising that the Police are far more used to being on the other side of protests, the Space Hijackers set up a stall at the Police March offering tips on protesting, free placards and even police issue anti F.I.T team face masks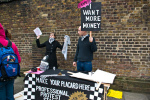 The Professional Protest Stall

A suggestion for a placard for the Police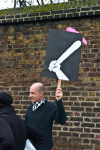 A re-working of the famous clenched fist logo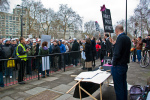 Advising the marchers on their rights as protesters
The Police have a lot of experience crushing protests, curtailing protesters rights and provoking confrontations in otherwise peaceful demos, however when it comes to actually protesting themselves, they are rank amateurs.
We decided to pass on some of our knowledge to the fledgling protesters, handing out leaflets on "Your rights as a protester" covering the relevant sections that the police were likely to use against themselves. Also an interesting sheet on "What to do if the police turn up" which asked them to remain calm in the face of possible police aggression and take down officers numbers.
We even had a song sheet with specially adapted protest songs:
"what do we want? - More Money"
"when do we want it? - Backdated from september 2007!"
"1234
money for the police force
5678
or we will not serve the state!"
plus our favourite
"No Justice, No Peace, We are the Police"
Our stall had a number of pre-made placards for them, and blank ones for them to fill out their own message. One policeman at the end shocked us by filling out a placard with "Love People, Hate Racism" which he then rejoined the march holding proudly. Perhaps they're not ALL bastards?
The FIT team eventually turned up and started documenting us for their database, this however gave us a great opportunity to show off our Police issue face masks. As we were being photographed our professional protesters advised the marchers 'Dear ladies and gentlemen, watch out for this lot, they will be putting you on their database of known subversives, try and cover your faces if you can" Amusingly this caused the FIT officers to scurry off quite quickly when the limelight was on them.
By the time the last of the marchers passed our stall we had handed out hundreds of leaflets and song sheets, wound up a fair few of the marching boys in blue and lost our voices from shouting too much.
more details on our site soon.
Space Hijacker


Homepage: http://www.spacehijackers.org
25.01.2008 10:47
He is using a proffessional Canon camera. The Met Police have a huge deal with Nikon which is why their snappers both uniform and plain clothes are seen with Nikon gear. He is possibly an agency photographer though his face is not familiar.
Hmmmm

---