mini mouse | 04.12.2007 11:32 | Climate Chaos | Social Struggles | London
Hard on the heels of Sipson's meeting came last night's in Harlington. In a packed church locals heard HACAN's John Stewart explain the deceits contained within the government's "consultation" process, followed by a precise analysis from NoTRAG's Geraldine Nicholson on what Harlington could really expect to suffer.
Sipson has always been considered to be the ultimate victim of this particular expansion, not least because the whole village is set to disappear under Terminal Six. The biggest displacement of people in the UK since - as local MP John McDonnell pointed out - the Scottish clearances.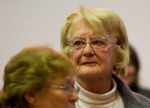 At least 700 homes will be destroyed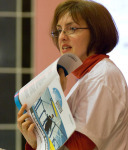 NoTRAG's Christine Taylor spells out the lies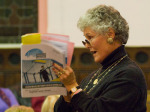 Out of more than 200 pages, the destruction of the villages is afforded 40 lines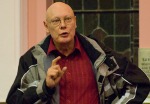 Local resident questions local MP McDonnell
But careful examination of BAA's maps indicated that Harlington residents may suffer a worse fate, being left within a couple of hundred yards of a terminal even bigger than the new Terminal Five. Next to this sits the supporting infrastructure of hangars, warehouses and a rail terminus, not to mention a network of access roads and car parks.
Add to this the fact that airports never close and that freight is moved mainly at night and you have the makings of a nightmare. You'd want to move - except that residents in this particular zone are deemed to be "unaffected" by the expansion and are promised no compensation - who'd want to buy your house anyway?
McDonnell pointed out the housing disaster that exists in London already. It's not as if there are houses to move to. And in response to a question from the floor, he promised to look into the anomaly whereby BAA, a Spanish owned company, seems to have acquired the right to compulsory purchase houses, something normally the (dubious) preserve of the State.
And it gets worse. It emerged during a meeting with aviation minister Jim Fitzpatrick last week that the government sees the responsibility for rehousing those people to lie with BAA.
BAA however disagrees. Anyone displaced as a result of infrastructure is, they claim, nothing to do with them.
Needless to say the mood was angry. Angry at being lied to, angry at being treated liked they didn't matter.
But defiant too. Speaker after speaker enforced the message that the way forward was solidarity. Stewart pointed out that there had never been such a broad coalition, with 2 million Londoners engaged, all MPs, MEPs all councillors, the London Mayor and the London Assembly all in opposition.
Add to this the Climate Camp (loud cheers from the audience), environmentalists, NGOs and the five million people BAA had tried to injunct and you had a mighty force.
Keep this issue alive, said McDonnell. Talk about it within every group, be that the Women's Institute, your union, school, scout troop or church. Raise the issue, win the argument in that group and we'll gather ever more strength.
Don't give up. This expansion can be stopped, but it needs you off your seats and out in support.
Final word went to Harlington's fiery priest, the Reverend Bob Scott. After leading a chorus of Blake's Jerusalem ("not a religious song" he pointed out) he called for an army, an army of ordinary people to take on the challenge.
And judging by the rousing response, he's got one.
mini mouse


e-mail: mini_mouse@riseup.net