imc-er | 03.11.2007 19:22 | London
Another classic piece of Class War action took place today, whereby 70 or 80 gathered, waved flags and looked menacing - only to be shepherded around the streets of Notting Hill at the whim of the cops.
Not even the proper toff bit of Notting Hill either. The enforced procession crossed Ladbroke Grove and was led to to - as one pissed yuppie explained to me - the "former home" of David Cameron. Citizen Dave, according to this local resident put up the For Sale signs shortly after hitting the big time - his new neighbours include eighties chanteuse Annie Lennox.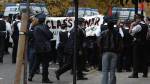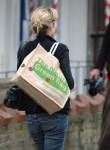 Locals go about their business...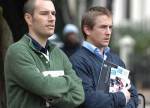 Mixed reaction from bystanders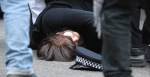 Woman dragged out and knocked down
That's not to say it was an error by Class War.
Frankly they had no say in where they went, being outnumbered a least five to one.
Police took advantage of the gloomy deserted streets to behave as you'd expect. Enforcing a policy of forcing suspected sympathisers into the demonstration they targeted a man with a broken arm, twisting it until he fell screaming to the ground. Using they ensuing crowd reaction ("scum, scum") as an excuse they violently arrested two women at the kettle in Oxford Gardens.
On the slow laborious return to Meanwhile Gardens 4 or 5 others were snatched on various charges. Photography and video of arrests was blocked at every opportunity - in one picture in this report a man is arrested, then a police minivan is driven between me and the victim to prevent me filming. However it is clearly visible through the windows that he is now being treated in a way that causes considerable pain.
Police behaved very badly, but perhaps it's not surprising that they'd defend the establishment vigorously against an action, the object of which was billed as: "old etonian heads on spikes!"
In yer dreams? Well dream on how this might have turned out on the other side of the channel.
imc-er

03.11.2007 23:30
We set out to march - and march we did. While we never got to Cameron's house, frankly we never expected to. What did we expect from the police? Not what we got! At first it didn't seem likely there'd be a march at all, which, with the imbalance of class forces, was a distinct possibility. Although the march wasn't as we wanted or might have expected, it's not as though we're bloody newcomers to heavy policing - some of us do go to the football, you know! But this was never intended as an end - as anyone who'd read what we wrote about it in the latest issue of Class War would have known. This is the beginning of a campaign, and knockers and begrudgers are what long experience of the British anarchist movement has taught us to expect.


our streets

---
04.11.2007 12:12
Report posted on our website:

http://www.londonclasswar.org/newswire/
London Class War


e-mail: londoncwf@yahoo.co.uk


Homepage: http://www.londonclasswar.org
---
05.11.2007 03:28
As people gathered on Portobello Road on Saturday afternoon the police made a beeline for the more conspicuous protesters, and around 10 of us were chased through Notting Hill by overzealous FIT on foot as well as a riot van. Eventually the group was surrounded in a local pub but the cops were too busy harassing anyone attempting to leave the main entrance to notice everybody slipping out of a side door.

After managing to lose the police entourage the group made it's way out of the cop-infested Portobello Market area, after some discussion the decision was made to hang a Class War banner at Buckingham Palace during the changing of the guard.

Unfortunately the time spent avoiding cops whilst crossing town meant that the monarchistic ritual was over by the time we arrived, but there was still opportunity to hang our 'No War but the Class War' banner on the Victoria Monument facing the palace and serenade the Royal Household with chants of 'You Rich Bastards' for half an hour before riot vans showed up.

Dodging London's Finest again the group headed over to the toffs playground, Mayfair, where we left our banner tied to the scaffolding facing the 5-star Dorchester Hotel before swapping numbers and heading our separate ways.

Considering the cops' concerted efforts to keep us away from their paymasters, making our presence felt at two of London's capitalist landmarks without being stopped was perhaps more than we could have expected, all in all a successful day.
JH

---