Oscar Beard | 20.10.2007 22:59 | Gender | Repression | London | World
19/10/2007: LGBT Human Rights Group Outrage! called for a protest outside the London Saudi Arabia Embassy as two men convicted of sodomy face 7000 lashes for their so called crime.

20071019_Saudi_Gay_Rights - video/x-ms-wmv 14M
A small but lively demonstration with some entertaining chants, which is like a breath of fresh air when you spend most of your working time hearing the same protest chants over and over again.
My favourite: "King Abdullah might be gay, but that's okay."
Human Rights campaigner and Green Party member, Peter Tatchell, attended the protest, gave a moving and informative speech, describing the extent of injuries incurred by the torture of lashing and then kindly gave Indymedia an interview denouncing Saudi Arabia's human rights record and the UK government for considering the brutal regime an ally.
Oscar Beard

21.10.2007 07:30

20071019_Saudi_Gay_Rights_QT - video/quicktime 11M
Quicktime version of the video report.
Oscar Beard

---
21.10.2007 09:19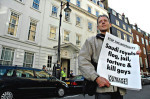 photo by marc vallée/marcvallee.co.uk) (c) marc vallée, 2007.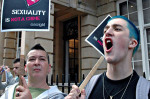 photo by marc vallée/marcvallee.co.uk) (c) marc vallée, 2007.
london, united kingdon – 19.10.07. gay rights protesters demonstrate outside the royal embassy of saudi arabia in london, england on friday 19th october 2007. the protesters congregated to protest the reported conviction of two young men in saudi arabian of 'sodomy' and sentenced to 7,000 lashes. the protest comes ahead of the state visit to the uk of king abdullah bin abdul azaz al saud, on 30 october 2007.
title : gay rights protest - royal embassy of saudi arabia (19.10.07).

http://www.marcvallee.co.uk/blog_201007.html
title : gay rights protest - royal embassy of saudi arabia (19.10.07). (slide show)

http://www.marcvallee.co.uk/saudi_lgbt_protest/19.10.07.html
marc vallée


e-mail: marc@marcvallee.co.uk


Homepage: http://www.marcvallee.co.uk
---