TCAR (Tyneside Community Action for Refugees) | 24.09.2007 00:05 | No Border Camp 2007 | Anti-racism | Migration | Social Struggles
On 22nd September Tyneside Community Action for Refugees organised a march from the West End to the centre of Newcastle upon Tyne, in solidarity with the international day of actions against immigration prions called by the No Borders network, which in Britain centred on a march against the building of another detention centre near Gatwick airport.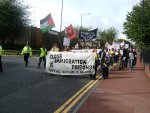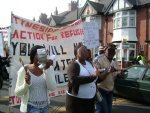 The March Sets of from the West End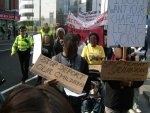 Marching Past Government Offices North East, Where the Local Home Office is Hous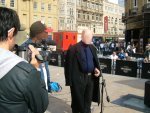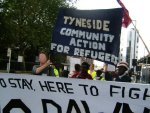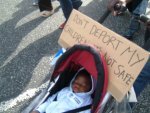 Since coming to power in 1997 Labour has overseen an expansion of detention on the basis of immigration from 700 to over 2500 at present, and a planned 4000 eventual places.
Refugees from countries including DRCongo, Congo Brazaville, Ivory Coast, Zimbabwe, Uganda, Sri Lanka and Turkey marched with local people in a militant and energetic show of unity against the Labour government's attempts to divide the working class and oppressed. Chanting and singing was kept up by the marchers for the whole of the route, and literature was distributed in the communities the march passed through explaining its purpose.
At the rally at the monument there was an open mic, which was used by many of the refugees present to speak to the people of Newcastle about the situations in the countries they had fled from. Many spoke about the role of the British government and companies in plundering their countries of resources, exploiting their labour, and funding and directing wars. As has happened increasingly on TCAR demonstrations, local working class people also took up the microphone to express their solidarity with the struggle of refugees.
With the dawn raid on the Uthayakumar family at the start of August the lull which we have been experiencing since the introduction of the New Asylum Model in March ended. The Home Office's new, even more brutal immigration system is now swinging into gear, and we need you to join us on the streets to oppose it. Please get in touch with your phone number if you are interested in organising against dawn raids in Newcastle, or in helping with TCAR's work in any other way.
Don't just get angry, get active! Join TCAR!
TCAR (Tyneside Community Action for Refugees)


e-mail: tynesidecarn@yahoo.co.uk