Peter Marshall | 12.09.2007 19:38 | DSEi 2007 | Anti-militarism | London
The Space Hijackers arrived at the DSEi arms fair in a tank and proceeded to have a party and conduct an auction of the tank and a mouse just outside the main vehicle gate, as well as making a very visible protest to those leaving the fair. Images are copyright, but will be licencensed free of charge for suitable non-commercial use.

That tank drives past the Tidal Basin Tavern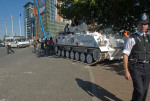 The tank parked at the western entrance to ExCeL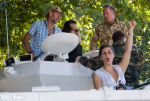 Celebrating arrival on the tank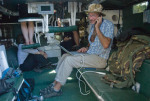 Reporting from inside the tank
Of course a tank is the obvious vehicle to take to an arms fair, and once the Space Hijackers had decided to do it, my only question was how to photograph it, especially as I had no information as to when and where it would arrive - if at all.
Several times I've been asked by police how I manage to be at the right place at the right time. But if you want to be a photographer you have to learn to predict what will happen.
So I was there to photograph the 'tank' arriving at the western entrance to the Excel centre, and after that it was easy apart from a certain amount of harassment by the police, who at one point simply refused to accept that my press card was genuine and threatened me with arrest.
The demonstrators were in position with banners as people drove past on their way out of the arms fair. I noticed one or two people in the cars that drove past - including one in military uniform - taking out their digital cameras to photograph the protestors.
The auction of the tank went well, though I had to leave for a meeting soon after the winning bid.
Lots of pictures showing the events in greater detail on 'My London Diary'

http://mylondondiary
in a day or two. Images are copyright, but free licences available for suitable non-commercial use.
Peter Marshall


e-mail: petermarshall@cix.co.uk


Homepage: http://mylondondiary.co.uk
13.09.2007 16:12
They start at

http://mylondondiary.co.uk/2007/09/sep.htm#space
I think it was a really great idea and obviously it is important that people protest against the arms fair - and I'm very pleased to be able to do my bit to record and publicise it,
Peter
Peter Marshall


e-mail: petermarshall@cix.co,uk


Homepage: http://mylondondiary.co.uk
---