Mike Wells | 12.09.2007 12:49 | Anti-militarism | London
Activist group The Space Hijackers acquired a tank which they planned to sell at auction outside the DSEI arms fair in East London. When police prevented the tank from reaching the arms fair they announced they had a second tank which was then approaching the arms fair.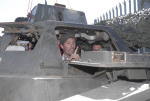 Space Hijackers' first tank prepairs to leave East London yard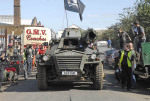 First tank on Street outside yard in East London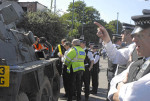 Police stop first tank for "road-worthiness" check

Space Hijackers anounce tank is decoy and 2nd tank now approaching DSEI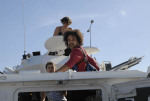 Second tank prepared for approach to DSEI|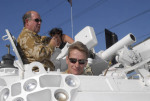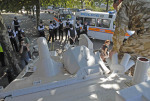 Surprise; 2nd tank arrives at DSEI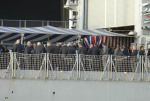 Drinks and nibbles aboard British warship moored outside arms fair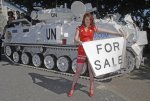 a little bit of promotion to sell the tank
Police initially blocked the Space Hijackers tank into a yard in East London, later letting it out of the yard and then claiming it had to be checked for road-worthiness. However not long after the police pulled the tank over for the road-worthiness check the Space Hijackers announced that the tank was a decoy and that they had a second tank which was, at that time, approaching the EXCEL centre where the Defence Systems and Equipment International (DSEI) arms fair is taking place.
After arriving at DSEI the Space Hijackers put the second tank, a huge tracked vehicle painted in UN colours, up for auction. In this ironic action they mimicked real-world arms dealers claiming that they would sell the tank to any buyer, and that the use to which the tank was put after the sale was neither their concern nor their responsibility.
While the Space Hijackers' spoof auction was taking place, visitors to the arms fair where enjoying drinks and nibbles on the deck of a British warship moored outside the exhibition centre.
Mike Wells


e-mail: mikejwells@yahoo.com

12.09.2007 13:18
Mike Wells


e-mail: mikejwells@yahoo.com

---