edd | 31.07.2007 00:01 | DSEi 2007 | Anti-militarism | Iraq | London
A small group of about ten protestors visited Raytheon Systems, manufacturer of bombs and other ordnance, before moving onto protest at Erinys a private security firm (mercenary company) working in Iraq

Telling Raytheon what we think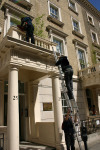 Climbing to the balcony at Erinys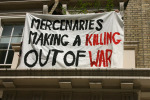 'Mercenaries making a killing out of war'
Mid morning on Monday 30th July a small group of protestors visited Raytheon systems on 80 Park Lane. A couple of people ventured onto a ledge about the entrance way with a banner reading, 'smart bombs, stupid wars'. Some other people entered the building to question people working inside about why they help manufacture weapons that have such devastating impact on human lives. Outside people handed out leaflets and talked through the megaphone to those inside and other people on Park Lane.
After an hour the group decided to move on to Erinys, at 25 Grosvenor Street. Erinys is a private security firm with 14,000 mercenaries working for them in Iraq. It was established by an ex-Apartheid era official called Sean Cleary, and was awarded a contract worth $80 million from the Coalition Provisional Authority. Despite this many of their local guards receive only $4 a day, with most of the money going to British and South African supervisors.
Another banner was hung from the balcony above their entrance reading 'Mercenaries making a killing out of war'. Again people handed out fliers. However, shortly after the protest started a very hostile member of the diplomatic police started harassing protestors, but in particular a member of the press who was at the event taking photos. The diplomatic cop used threatening body language as well as verbal language and refused to adequately identify himself to the photographer. He only calmed down when the photographer produced the NUJ guidelines to show that he was indeed entitled to take the policeman's photo in a public space.
Soon after this a keystone cop moment ensued with a number of diplomatic police arriving as well as some special constables. They rushed along to the building and spent a couple of minutes inside the building hunting for the elusive protestors only for it to be pointed out by one of the staff that they left a few minutes ago and were 'heading in that direction'. Eventually the police caught up and stopped the group walking away.
The police then proceeded to perform stop and searches on several individuals, and then decided against all bounds of logic to arrest two people for burglary.
The protests happened to coincide with a day of action against the arms trade, which was called by Disarm DSEi, a group campaigning against the world's largest arms fair. More information can be found at

http://www.dsei.org
More information on Raytheon can be found at:

http://www.raytheon.co.uk
And on Erinys at either:

http://www.sourcewatch.org/index.php?title=Erinys_International_Ltd
or:

http://www.erinysinternational.com/
edd


e-mail: edd @ rnzine.co.uk

31.07.2007 10:15
the two prisoners were released last night on police bail after nearly 12 hours banged up.
tim spicer

---