Guido | 05.07.2007 23:07 | Gender | London
This years Gay Pride saw one of the biggest turnouts ever despite two factors that would have all but destroyed other events.
Firstly the less than efficient al-Quaida wannabe bombers planted two 'devices' on the route of the march two days before. This could have led the Police to cancel the procession or a least reroute it through a less glamorous part of town. Then there was the rain that tipped down by the bucket full from beginning to end. Fortunately the LGBT community and their supporters are not so easily put off proving yet again that by comparison heterosexuals just don't know how to party.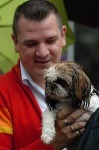 Ok at least one participant is pissed off with the rain.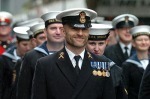 In the Navy...you can now sleep with who you like.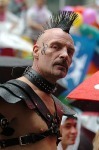 The Max Max look is still very popular....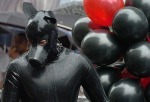 Mickey Mouse lets his hair down on his day off from promoting Disney.
Upon arrival I bump into a friend who is celebrating 25 years of being 'out'. Of course things are a bit easier now than they were in 1982 but there is still a long way to go before anyone starts talking about real equality. Yes despite the efforts of some, the law has been changed for the better see:

http://www.indymedia.org.uk/en/2007/01/359629.html
But things are still pretty grim for the younger members of the LGBT community:

http://www.indymedia.org.uk/en/2007/06/374437.html
Who are 3 times more likely to run away from home than their straight counterparts.
It should also be remembered that Pride is an international day and many countries still defy the human rights act by making non heterosexual acts illegal. With blatent homophobic incitement commonplace both in the mainstream media and society as a whole:

http://www.indymedia.org.uk/en/2007/06/374749.html
So aside from the parade which is the usual mixture of humour carnival eccentricity there are still some very serious issues to be addressed here both at home and abroad.
It has to said though. From a photographers point of view Pride is a dream come true. Plenty of colour more variety than you could imagine and pretty much everyone wants to have their picture taken. Result!
Guido


e-mail: guidoreports@riseup.net