IMCista | 23.06.2007 00:24 | Migration | Birmingham
As part of Refugee Week, the Birmingham Anti-Racist Campaign (ARC) organised a candlelit vigil today to remember asylum seekers who took their own lives and protest against the government's racist policies. After reading out the 40+ victims' sad stories and some short speeches, there was some nice African, Kurdish and Iranian live music. Food Not Bombs also served some nice food. Many people then stayed over for the annual Refugee Sleep-out to highlight the problem of destitution that many asylum seekers suffer from. The event was sponsored by Celebrating Sanctuary and supported by many groups and organisations, including the National Coalition of Anti-Deportation Campaigns and Birmingham NoBorders.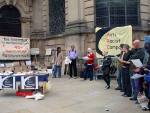 reading out the names and stories of the dead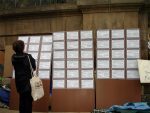 their names and stories displayed again
IMCista

23.06.2007 22:42
Greetings and solidarity from Edinburgh. There was an Amnesty International vigil and sleep out for refugees in Edinburgh's West End on Friday 22nd:

http://indymedia.org.uk/en/2007/06/374291.html
Here are 20 pics from Brian Haw's 6th anniversary party on June 2nd:

http://www.indymedia.org.uk/en/2007/06/372375.html
Regards, Paul.
Paul O'Hanlon


e-mail: o_hanlon@hotmail.com

---