iggy | 09.06.2007 13:58 | G8 Germany 2007 | Climate Chaos | Globalisation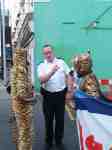 careful now, down with this type of thing
London Rising Tide and Friends descended on Chelsea Tractor country on Friday night in a protest against the G8's pathetic attempt to "consider" climate change and to reduce CO2 emissions.
The Tigers and Clowns blockaded the E$$O station at Fulham Rd for over to two hours to highlight Exxon Mobil/E$$Os role in bankrolling our future down the pipe. Their support for the Liquid Natural Gas pipeline coming to a city near you is paving the way for new Gas Fired power stations, locking us into another 30 years with these emission-spouting beasts. The emissions from these stations are comparable to the existing Coal Fired ones!
Because the tankers carrying this gas have to come from Qatar and are so huge, they cannot navigate the Suez Canal so have to circumnavigate Africa, freezing the gas as they go. In terms of emissions this makes the final figures at use almost as high as energy derived from coal. LNG is NOT a clean fuel!
The protest went well with the overwhelming majority of people, including car drivers… were positive to the message that we were giving out. The Police arrived after about thirty minutes, but after telling us to stay out of E$$Os forecourt, we remained for another hour: their threat of "ten minutes of you're in the van" being the usual bravado. A good time was had by all, and the Tigers will continue to prowl…….
To get in touch:

london@risingtide.org.uk
For more info on ESSO's pipeline

http://www.fightthepipe.co.uk
STOP THE PRESS:
With the pipeline converging on two fronts the protest three camp in the Brecon Beacons has just been served with an eviction notice and are now on high alert for Monday 11th. Activists are now dug-in and locked-on up trees with support from local people, ready to resist. They need your support. If you can get down there, ring the camp hotline on 07917383517, or email

bristol@risingtide.org.uk
iggy


Homepage: http://risingtide.org.uk