SOLIDARITY WITH ANTI-G8 PROTESTORS | 06.06.2007 16:27 | G8 Germany 2007 | Globalisation
The few south wales anarchists that were left in Wales took to the streets today to show their support for anti-G8 protestors in Germany and to spread information about why the summit should be shut down!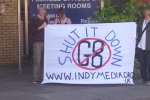 Outside offices of German consul
South Wales anarchists distributed hundreds of leaflets about the G8 in Cardiff city centre today, walking through the main shopping streets with a banner proclaiming "SHUT IT DOWN!".
Activists also paid a visit to the office where the honorary German consul in Wales is based to highlight the brutal repression of protestors by the German state. Not surprisingly, she was not in and we were asked to leave.
Anti- G8 banners also appeared above the A48 in Cardiff and dropped from a building in the city centre.
SOLIDARITY WITH ANTI-G8 PROTESTORS


e-mail: cardiffanarchists@riseup.net


Homepage: http://www.southwalesanarchists.org