Acrobat | 01.05.2007 22:53 | Mayday 2007 | Free Spaces | Social Struggles | London
Mayday began with the gathering of the Unions, autonomous bloc and Turkish Workers organisations, amongst others, mobilising at Clerkenwell Green to set off on the march to Trafalgar Square. The march itself was largely uneventful, being smaller than past years, brisk of pace and fairly contained by police and stewards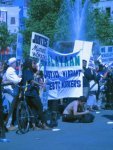 Migrant workers and support groups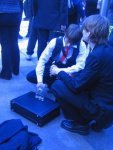 Shots for the people - at canary wharf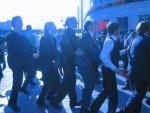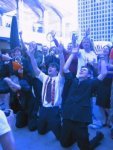 Mocking capitalism's obsession with profit, power and greed!
At Trafalgar Square. there were the usual smattering of flags, trestle tables that acted as platforms for a variety of union, socialist, student, human rights groups. At around 2:30, there were around 6-700 people in the square, many listening to speeches from Tony Benn, union organisers from the Justice for Cleaners campaign and Alison Shepherd, TUC President. The rally ended around 4pm with many people lingering in the square but with no activity or action forthcoming, folks pretty much dispersed.
Later the Space hijackers event of Dancing in The Streets started at 5pm. Around 10 or so suited and booted folks began to sing close to the entrance of Canary Wharf shopping centre, much to the bemusement of city-folk in the promenade cafés.
More and more suited revelers joined in chorus to the "yellow submarine"! and other such popular anarchic theme tunes!!?? from the distributed song-sheets, initiated mad conga dancing and became human maypoles.
The police were on point, ready for something much bigger that the performance art worship to the sun going down on black heart of capital. Most spectators were confused at worst, at best joining in and provided with light refreshments in the form of shots and ice lolly's by the event participants. A small samba band came to enliven the atmosphere towards the end. Around 5:45 however there was one arrest, for what is not yet clear. After the arrest the party moved off towards the shoreline of the Thames for a impromptu beach party, however again along the way another 2 people were arrested, the reasons why, unclear. With an escort of police folks were still dancing and enjoying themselves on the beach after 7pm.
Acrobat