Neon Black | 01.05.2007 17:35 | Mayday 2007 | Social Struggles | Workers' Movements | Liverpool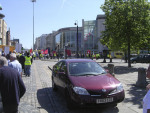 March sets off from St George's Plateau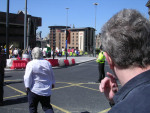 Marching towards Queens Square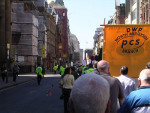 The easiest work the police are ever likely to get
The event was smaller than in the last few years, partly because today was a work day for most. However, the PCS strikers swelled the numbers, and showed a great example to others by honouring the noble tradition of May Day strikes (even if they will be back in work tomorrow).
The march started from St George's Plateau on Lime Street, and made its (very quiet) way down to the Victoria Monument in Derby Square. Merseyside TUC President Alec McFadden apologised for the lack of a festival (which is down to the fact the TUC haven't bothered to organise one this year), before descending into his usual football jokes.
Lindsey German of the Stop The War Coalition - co-author of a recent humble letter to Gordon Brown - made all the usual noises about pressurising the government into listening to people before they go invading next time. This, despite the fact that the failure of Stop The War's strategy to actually stop any wars is staring everyone in the face.
Then John McDonnell - the least right wing candidate for the Labour leadership when Blair finally throws in the towel - presented his case (which basically amounted to 'trust me to sort it all out for you'). McFadden openly encouraged the crowd to vote for McDonnell in the Labour leadership election, which of course would mean joining the Labour Party, and handing over money for the party's anti-worker campaigns.
After that it was time for music and beer, so this journalist went off in pursuit of some more radical activity...
Neon Black


Homepage: http://dreaming-neon-black.blogspot.com