IMCista | 11.01.2007 23:12 | Anti-militarism | Repression | Birmingham
Some 70-80 people gathered today in Perry Barr, Birmingham, in front of Hiatt, a UK company that makes shackles and other torture equipment, to 'celebrate' the 5th anniversary of the notorious US-run prison at Guantánamo Bay, Cuba, where 10 British residents and 400 other prisoners are held illegally. The protest was part of a UK-wide day of action and was called by Reprieve (a UK charity that legally represents the British residents held in Guantanamo), Birmingham Guantanamo Campaign, Save Omar Campaign and Amnesty International. Hiatt manufacture the shackles used by the US military in Guantánamo Bay over the last 5 years. The company has never missed a business opportunity in over 200 years, from supplying "nigger collars" to the slave trade to shackles used during torture by various unsavoury regimes (see press release).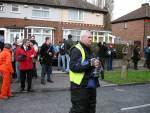 .. and an 'evidence gatherer' trying to profile protesters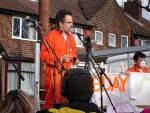 Dr David Nichols talking about Guantanamo and presenting speakers

Abu Bakr Deghayes talking about his brother, Omar, in Guantanamo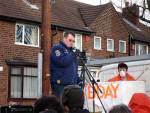 Sandy Mitchell talking about his torture in Saudi prison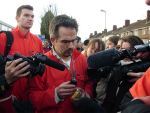 a phone call from Omar's brother on 'the other side of the fence' in Cuba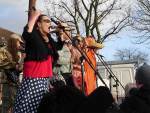 Seize The Day singing "Shackle-Shuffle"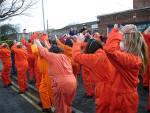 and people in orange jump suits doing the "shackle-shuffle"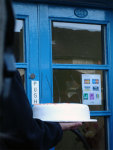 delivering the cake to Hiatt..
IMCista

11.01.2007 23:57


Sandy spoke of how he was shackled above the door of his cell by his wrist using Hiatt's shackles. He was held there for between 10-12 hours a day for 8 days. He tried to stand on tiptoe to relieve the pressure on his wrist, but whenever he drifted off to sleep the prison guards would beat him with wooden axe handles to keep him awake. His body from the waist down was literally black and blue from these beatings. Just before leaving Hiatt, he put some closure on his horrific experiences by giving back his Hiatt's shackles to their manufacturers through the letter box.
IMCista

---