Shafiq Alam | 10.01.2007 13:20 | Anti-militarism | Repression | World
Bangladeshi police beat leaders and activists of the 14-party opposition alliance during clashes in Dhaka.

Dhaka. Riot policemen charge a group of activists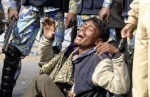 A man cries as he is arrested in the Bangladesh capital, Dhaka
DHAKA - Tens of thousands of troops took up positions across violence-wracked Bangladesh as the impoverished country faced fresh opposition protests ahead of this month's disputed elections.
A home ministry spokesman said the deployment to all of Bangladesh's 64 districts and some 500 sub-districts would be completed later in the day.
The move, a regular feature of Bangladeshi election preparations, comes amid mounting protests and opposition plans to boycott the polls. Rights groups have also criticised the deployment plan, saying army officers could abuse their power to arrest.
"The army will combat crimes, ensure uninterrupted economic activities, recover illegal arms and weapons and ensure that polls are held in a congenial atmosphere," the spokesman said Wednesday.
The soldiers were deployed as thousands of opposition supporters converged near the country's presidential palace to protest the holding of the elections, scheduled for January 22.
Chanting "resist polls on January 22," the supporters converged at Paltan Maidan, the heart of Bangladesh's capital Dhaka, under the gaze of riot police who blocked the whole area with barbed-wire barricades to maintain security.
At least 50,000 opposition supporters converged at the Paltan Maidan and more were pouring in, deputy commissioner of Dhaka police Ahsan Habib said.
More than 6,500 police and paramilitaries were on duty in and around the venue and police have banned items that could be wielded as weapons to prevent any violence.
The opposition alliance, led by the Awami League, accuses the outgoing Bangladesh Nationalist Party (BNP) of seeking to rig the polls by appointing biased officials and drawing up a voter list containing 14 million fake names.
The last three days have seen major clashes in the capital Dhaka, and opposition spokesman Abdul Jalil said Awami League leader and former prime minister Sheikh Hasina Wajed would announce new series of protests at a rally at Paltan Maidan in central Dhaka later Wednesday.
"We will resist any move to hold a stage-managed and farcical elections. We will go for non-stop blockades and protests if the government goes ahead with the one-sided polls on January 22," Jalil said.
An opposition transport blockade has paralysed Bangladesh over the past three days. Violent clashes during the blockades left more than 100 injured as police fired rubber bullets, tear gas and battled with thousands of opposition supporters throwing stones and small bombs.
The opposition parties have staged dozens of protest strikes and blockades over the past year to press their case, repeatedly bringing the country to a standstill and causing massive losses to businesses.
The state-owned BSS news agency said three interim government members held talks with Jalil late Tuesday to find ways to resolve the political impasse.
During the talks, the opposition parties reiterated their demand for preparation of flawless voters list and announce a news polls date, Jalil said.
The cabinet members also held a meeting with secretary general of the BNP, Abdul Mannan Bhuiyan, but they refused to discuss details of their discussions with the parties.
Separately, police fired tear gas to disperse thousands of garment workers in the capital who ransacked factories and torched cars to protest reports that two union leaders died after being beaten by factory owners, police said.
The clashes occured after more than 20,000 workers poured onto the streets after a rumour spread that two union leaders had died after being beaten by owners of garment factories, local police chief Syed Mahbubur Rahman told AFP.
Rahman said five union leaders were beaten by factory owners and two were seriously injured, but that no one had died.
"We also arrested seven for beating the garment union leaders," he added.
by Shafiq Alam

http://smart.tin.it/rancinis/bangla.html
Shafiq Alam