lora | 28.12.2006 14:37 | Anti-militarism | Repression | World
Police broke up a protest by dozens of relatives of missing people and detained some as they tried to march towards the military headquarters.
Rawalpindi, Pakistan - December 28, 2006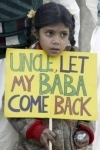 A girl holds a placard as she protests against the disappearance of her father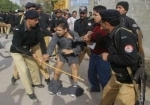 Police beat a youth, who was protesting against the disappearance of his father
James Rupert, Newsday
Thursday, December 28, 2006
(12-28) PST Rawalpindi, Pakistan -- In the 17 months since Ahmed Masood Janjua disappeared, his wife, Amina, has been running his business, raising their three children and suing the Pakistani government over its secret imprisonment of hundreds of men.
Including, she says, her husband.
Since September, Amina Masood and scores of wives, mothers and children of secretly arrested men have rallied outside offices of the army-led government, waving portraits of their loved ones and demanding that President Pervez Musharraf have the missing men freed. They have brought unusual pressure to bear on an army used to managing its activities and finances without the annoyance of public oversight. And with strong support from a usually weak supreme court, they have forced the military to free as many as 13 men from a list of 41 "disappeared."
Musharraf's government is secretly holding hundreds of men in prisons run by its intelligence services or at military bases, say Pakistani human rights groups. While many disappearances appear linked to the government's fight against some violent Islamist groups, others are tied to ethnic conflicts or, apparently, criticism of the army.
While the United States' declared policy is to push for democracy in Pakistan, Amnesty International and other human rights advocates say the Bush administration ignores secret arrests of men who may be suspects in its "global war on terror." Washington's silence is strengthening a culture of impunity under Pakistan's military rule, the rights groups say.
The U.S. Embassy declined to comment. The current State Department human rights report on Pakistan says "there were no politically motivated disappearances" in 2005 but adds: "security forces held prisoners incommunicado and refused to provide information on their whereabouts, particularly in terrorism and national security cases." It does not discuss the scale of that problem.
Masood, 40, works in an office at the College of Information Technology. Signing paperwork and answering a cell phone one recent morning, her face alternately beamed and fretted, framed by a tightly pinned head scarf. "My children have not seen their father, and we have not had his love or guidance for all this time," she said.
Janjua vanished with a companion as they left for Tabligh -- a periodic missionary trip many Muslims make to visit mosques and preach the virtues of religious observance.
The family learned that someone powerful was behind his disappearance the way many families do: When "we reported it to the police and they refused to register the case, we understood that it must involve the agencies," his wife said. For Pakistanis, "the agencies" means a clutch of secret intelligence departments, the largest of which is the military's Inter-Services Intelligence directorate.
Janjua's father, Raja Ali Muhammad, 83, is a retired lieutenant colonel who led the young Musharraf in the army's elite commando unit, the Special Services Group. He "told us not to worry, (that) he would use his contacts" among top officers to find out what had happened to his son, Masood said.
Muhammad attended an army holiday dinner in January knowing Musharraf would be present. "He met the president and explained the situation and gave him a letter" with the details, Masood said. Eventually, the Interior Ministry sent a police investigator to interview the family. "We never heard from him again," she said.
Masood said an intelligence official, another investigator and a recently released prisoner have all told her separately her husband is being held by a military intelligence agency.
Since she began her street protests in August, distraught families have sought her out to add the names of missing loved ones to her list. While her supreme court case concerns 41 men, Masood says her list is closer to 100.
The Human Rights Commission of Pakistan, an independent monitoring body, says it has reports of at least 400 people secretly arrested since 2002 -- 150 of whom are still missing.
Source: www.sfgate.com
lora


Homepage: http://www.edoneo.org/bangla.html